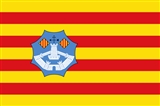 Minorca
Min Orca
or
Menorca
is one of the
Balearic Islands
Balearic Islands
The Balearic Islands are an archipelago of Spain in the western Mediterranean Sea, near the eastern coast of the Iberian Peninsula.The four largest islands are: Majorca, Minorca, Ibiza and Formentera. The archipelago forms an autonomous community and a province of Spain with Palma as the capital...
located in the
Mediterranean Sea
Mediterranean Sea
The Mediterranean Sea is a sea connected to the Atlantic Ocean surrounded by the Mediterranean region and almost completely enclosed by land: on the north by Anatolia and Europe, on the south by North Africa, and on the east by the Levant...
belonging to
Spain
Spain
Spain , officially the Kingdom of Spain languages]] under the European Charter for Regional or Minority Languages. In each of these, Spain's official name is as follows:;;;;;;), is a country and member state of the European Union located in southwestern Europe on the Iberian Peninsula...
. It takes its name from being smaller than the nearby island of Majorca.
Minorca has a population of approximately 94,383 (2010). It is located 39°47' to 40°00'N, 3°52' to 4°24'E. Its highest point, called
El Toro
El Toro (Menorca)
El Toro in Catalan or Monte Toro in Spanish is the tallest hill of the island of Minorca with of altitude.The mountain is home to a rather famous church which remains silent for most of the year, as well as a cafe which serves light snacks, lunches, and cold drinks which are great for a Spanish...
or Monte Toro, is 358 m/1174 ft
above sea level
Above mean sea level
The term above mean sea level refers to the elevation or altitude of any object, relative to the average sea level datum. AMSL is used extensively in radio by engineers to determine the coverage area a station will be able to reach...
.
The island is known for its collection of megalithic stone monuments:
navetes
Naveta
A naveta is a megalithic chamber tomb unique to the Balearic island of Minorca. It dates to the early Bronze Age.It has two vertical and two corbelled walls giving it the form of an upturned boat which is where the name comes from....
,
taules
Taula
A taula is a T-shaped stone monument found on the Balearic island of Minorca. Taulas can be up to 3.7 metres high and consist of a vertical pillar with a horizontal stone lying on it...
and
talaiot

Talaiot

The talaiots, or talayots, are Bronze Age megaliths on the islands of Minorca and Majorca forming part of the Talaiotic Culture or Talaiotic Period. They date from the late second millennium and early first millennium BC. There are at least 274 of them, in, near, or related to Talaiotic settlements...


s
, which speak of a very early prehistoric human activity.