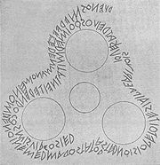 Latin
Latin
(ˈlætɪn; Latin: , laˈtiːna) is an Italic language originally spoken in
Latium
Latium
Lazio is one of the 20 administrative regions of Italy, situated in the central peninsular section of the country. With about 5.7 million residents and a GDP of more than 170 billion euros, Lazio is the third most populated and the second richest region of Italy...
and
Ancient Rome
Ancient Rome
Ancient Rome was a thriving civilization that grew on the Italian Peninsula as early as the 8th century BC. Located along the Mediterranean Sea and centered on the city of Rome, it expanded to one of the largest empires in the ancient world....
. It, along with most
European languages
Indo-European
Indo-European may refer to:* Indo-European languages** Aryan race, a 19th century and early 20th century term for those peoples who are the native speakers of Indo-European languages...
, is a descendant of the ancient
Proto-Indo-European language
Proto-Indo-European language
The Proto-Indo-European language is the reconstructed common ancestor of the Indo-European languages, spoken by the Proto-Indo-Europeans...
. Although it is considered a
dead language
Language death
In linguistics, language death is a process that affects speech communities where the level of linguistic competence that speakers possess of a given language variety is decreased, eventually resulting in no native and/or fluent speakers of the variety...
, a number of scholars and members of the Christian clergy speak it fluently, and many schools and universities continue to teach it. Latin is still used in the process of
new word production
in modern languages of many different families, including English.