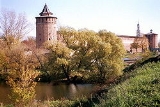 Kolomna Kremlin
Kolomna Kremlin
is a very large fortress in
Kolomna
Kolomna
Kolomna is an ancient city and the administrative center of Kolomensky District of Moscow Oblast, Russia, situated at the confluence of the Moskva and Oka Rivers, southeast of Moscow. The area of the city is about . The city was founded in 1177...
,
Russia
Russia
Russia or , officially known as both Russia and the Russian Federation , is a country in northern Eurasia. It is a federal semi-presidential republic, comprising 83 federal subjects...
. The stone Kolomna
Kremlin
Kremlin
A kremlin , same root as in kremen is a major fortified central complex found in historic Russian cities. This word is often used to refer to the best-known one, the Moscow Kremlin, or metonymically to the government that is based there...
was built from 1525—1531 under the Russian Tsar Vasily III. Before its reconstruction in 1531, the Kolomna Kremlin was made of wood. On its territory there are many Russian churches and monasteries: The Uspensky cathedral, the Voskresenky church, the Spassky monastery (14th century), and a number of others.
Buildings of the Kolomna Kremlin
The Kolomna kremlin once had 17 towers, four of which had gates,with the main gates being located at the northern and southern end of the complex. Only 7 towers, and two parts of the wall have survived.
Here is a list of the towers (towers marked as gates means that a gate was running underneath it):
Pyatnitskie Gates
Kolomenskaya Tower
Granovitaya Tower
Yamskaya Tower
Simionovskaya Tower
Spasskaya Tower
Pogorelaya Tower
Voznesenskaya Tower
Ivanovskie Gates
Borisobglebskaya Tower
Kosie Gates
Voskresenskaya Tower
Sandirevskaya Tower
Bobretsevskaya Tower
Vodynie Gates
Sviblova Tower
Zastenochnaya Tower
Besides towers, there were two gates in walls: The Mihaelovskie Gates and the Melynychnie Gates
Statistics
|Number of towers:
|17
|-
|Number of towers in the keep:
|7
|-
|Number of gates:
|3
|-
|Years of construction:
|1525-1531
|-
|Area:
|24 hectares
|-
|Length of wall:
|1940 meters
|-
|Height of towers:
|30-35 meters
|-
|Height of wall:
|18-21 meters
|-
|Thickness of wall:
|3-4.5 meters
|}>