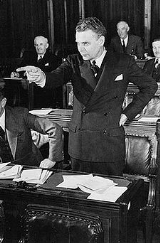 John Diefenbaker
John George Diefenbaker
,
PC
Queen's Privy Council for Canada
The Queen's Privy Council for Canada ), sometimes called Her Majesty's Privy Council for Canada or simply the Privy Council, is the full group of personal consultants to the monarch of Canada on state and constitutional affairs, though responsible government requires the sovereign or her viceroy,...
,
CH
Order of the Companions of Honour
The Order of the Companions of Honour is an order of the Commonwealth realms. It was founded by King George V in June 1917, as a reward for outstanding achievements in the arts, literature, music, science, politics, industry or religion....
,
QC
Queen's Counsel
Queen's Counsel , known as King's Counsel during the reign of a male sovereign, are lawyers appointed by letters patent to be one of Her [or His] Majesty's Counsel learned in the law...
(September 18, 1895 – August 16, 1979) was the
13th
Prime Minister
Prime Minister of Canada
The Prime Minister of Canada is the primary minister of the Crown, chairman of the Cabinet, and thus head of government for Canada, charged with advising the Canadian monarch or viceroy on the exercise of the executive powers vested in them by the constitution...
of
Canada
Canada
Canada is a North American country consisting of ten provinces and three territories. Located in the northern part of the continent, it extends from the Atlantic Ocean in the east to the Pacific Ocean in the west, and northward into the Arctic Ocean...
, serving from June 21, 1957, to April 22, 1963. He was the only
Progressive Conservative
Progressive Conservative Party of Canada
The Progressive Conservative Party of Canada was a Canadian political party with a centre-right stance on economic issues and, after the 1970s, a centrist stance on social issues....
(PC or Tory) party leader between 1930 and 1979 to lead the party to an election victory, doing so three times, although only once with a majority of seats in the
Canadian House of Commons
Canadian House of Commons
The House of Commons of Canada is a component of the Parliament of Canada, along with the Sovereign and the Senate. The House of Commons is a democratically elected body, consisting of 308 members known as Members of Parliament...
.
Diefenbaker was born in
southwestern Ontario
Southwestern Ontario
Southwestern Ontario is a subregion of Southern Ontario in the Canadian province of Ontario, centred on the city of London. It extends north to south from the Bruce Peninsula on Lake Huron to the Lake Erie shoreline, and east to south-west roughly from Guelph to Windsor. The region had a population...
in 1895.