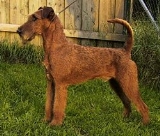 Irish Terrier
The
Irish Terrier
is a
dog breed
Dog breed
Dog breeds are groups of closely related and visibly similar domestic dogs, which are all of the subspecies Canis lupus familiaris, having characteristic traits that are selected and maintained by humans, bred from a known foundation stock....
from
Ireland
Ireland
Ireland is an island to the northwest of continental Europe. It is the third-largest island in Europe and the twentieth-largest island on Earth...
, one of many breeds of
Terrier
Terrier
A terrier is a dog of any one of many breeds or landraces of terrier type, which are typically small, wiry, very active and fearless dogs. Terrier breeds vary greatly in size from just a couple of pounds to over 70 pounds and are usually categorized by size or function...
.
The Irish Terrier is an active and compactly sized dog that is suited for life in both rural and city environments. Its harsh red coat protects it from all kinds of weather.
Appearance
Breed standard
Breed standard
A breed standard in animal fancy and animal husbandry is a set of guidelines which is used to ensure that the animals produced by a breeder or breeding facility conform to the specifics of the breed....
s describe the ideal Irish Terrier as being racy, red and rectangular. Racy: an Irish Terrier should appear powerful without being sturdy or heavy. Rectangular: the outline of the Irish Terrier differs markedly from those of other terriers. The Irish Terrier's body is proportionately longer than that of the
Fox Terrier
Fox Terrier
Fox Terrier refers primarily to two different breeds of the terrier dog type: the Smooth Fox Terrier and the Wire Fox Terrier. Both of these breeds originated in the 19th century from a handful of dogs who are descended from earlier varieties of British terriers, and are related to other modern...
, with a tendency toward racy lines but with no lack of substance.
The tail is customarily docked soon after birth to approximately two-thirds of the original length. In countries where docking is prohibited, the conformation judges emphasize tail carriage. The tail should start up quite high, but it should not stick straight up or curl over the back or either side. The ears are small and folded forward just above skull level. They are preferably slightly darker than the rest of the coat. It is fairly common to see wrongly positioned ears, even though most dogs have their ears trained during adolescence.
Coat and colour
The Irish Terrier is coloured golden red, red wheaten, or wheaten. Dark red is often mistaken as the only correct colour, possibly because wheaten coats are often of worse quality. As with many other solid-coloured breeds, a small patch of white is allowed on the chest. No white should appear elsewhere. As an Irish Terrier grows older, grey hair may appear here and there.
The outer part of the double coat should be straight and wiry in texture, never soft, silky, curly, wavy, or woolly as might be expected in the
Kerry Blue Terrier
Kerry Blue Terrier
The Kerry Blue Terrier is a breed of dog. Mistakenly thought to be from County Kerry in South West Ireland, it's actually from Tipperary in South Central Ireland. In Ireland it is often called the Irish Blue Terrier...
. The coat should lie flat against the skin, and, though having some length, should never be so long as to hide the true shape of the dog. There are longer hairs on the legs, but never so much as a Wire Fox Terrier or
Schnauzer
Schnauzer
A Schnauzer is a German dog type that originated in Germany in the 15th and 16th centuries. The term comes from Schnauze , the German word for "snout", because of the dog's distinctively bearded snout. The word Schnauzer also means moustache in German; some authorities, such as Encyclopædia...
. That means you have to have the coat trimmed often which can be expensive.
The inner part of the coat, called the under-wool or undercoat, should also be red. The under-wool may be hard for the inexperienced eye to see. Coat should be quite dense and so that "when parted with the fingers the skin is hardly visible".
A properly trimmed Irish Terrier should have some "furnishings" on legs and head. The slightly longer hair on the front legs should form even pillars, while the rear legs should only have some longer hair and not be trimmed too close to the skin. The chin is accentuated with a small beard. The beard should not be as profuse as that of a Schnauzer.
The eyes should be dark brown and quite small with a "fiery" expression. The eyes are topped with well-groomed eyebrows. The whole head should have good pigmentation.
Size
Most countries have breed descriptions that say that the Irish Terrier should not be more than 48 cm measured at the
withers
Withers
The withers is the ridge between the shoulder blades of a four-legged animal. In many species it is the tallest point of the body, and in horses and dogs it is the standard place to measure the animal's height .-Horses:The withers in horses are formed by the dorsal spinal processes of roughly the...
. However, it is not unusual to see bitches that are 50 cm tall or dogs that are even 53 cm (20 in). Younger generations are closer to the ideal, but there is a downside to this: when an Irish Terrier is very small and light-boned, it loses the correct racy type.
Very seldom does one see Irish Terriers that weigh only 11 to 12 kg (25-27 lb), as the original Kennel Club breed description states. 13 kg for a bitch and 15 for a dog are acceptable.
Temperament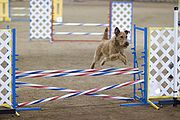 The Irish Terrier is full of life, but not hyperactive; it should be able to relax inside the house and be roused to full activity level quickly.
Irish Terriers are good with people. Most Irish Terriers love children and tolerate rough-housing to a certain extent. Irish terriers are not always the best choice of dog, as they are very energetic and sometimes challenging to train. It is important that they have a strong leader, for whom they have natural respect. New tasks are easily mastered, providing the dog is motivated to learn; Irish terriers have less of an eagerness to please people than some other breeds. Food and toys work equally well as motivation to learn. Training will not be as easy as with other dog breeds that have stronger willingness to please people. They respond best to firm, consistent training from a relaxed, authoritative person. As with all dog breeds, violence should never be used - it is always best to outwit and lure. When seeking a trainer, one should look for a person who has experience with terriers.
Irish Terriers are often dominant with other dogs, and same-sex aggression is a common problem. The Irish Terrier will commonly be attracted to species of the same-sex. Poorly socialized individuals can start fights with minimal, if any, provocation. Thus, early socialization is a necessity. Most have strong guarding instincts and when these instincts are controlled, make excellent alarming watchdogs, but if they are not controlled, your dog will be very aggressive and not very compassionate towards the owner.
Most Irish Terriers are show dogs. There are however more and more people joining organised dog sports with their terriers. The obedience training required at a certain level in most dog sports is fairly easy, though the precision and long-lasting drive needed in the higher levels may be hard to achieve. Many Irish Terriers excel in
agility
Dog agility
Dog agility is a dog sport in which a handler directs a dog through an obstacle course in a race for both time and accuracy. Dogs run off-leash with no food or toys as incentives, and the handler can touch neither dog nor obstacles...
, even though it may be hard to balance the speed, independence and precision needed in the higher levels. To date there is one Agility Champion in the US, and a handful of Finnish and Swedish Irish terriers compete at the most difficult classes.
Irish Terriers have a good nose and can learn to track either animal blood or human scent. Many Irish Terriers enjoy Lure Coursing, although they are not eligible for competition like sight hounds are. In Finland one Irish Terrier is a qualified Rescue Dog specializing at Sea Rescue.
History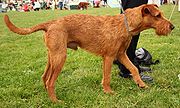 The breed's origin is not known. It is believed to have descended from the black and tan terrier-type dogs of Britain and Ireland, just like the Kerry Blue and Irish Soft-haired Wheaten Terriers in Ireland or the Welsh, Lakeland and Scottish Terriers in Great Britain.
F. M. Jowett writes in
The Irish Terrier
, 'Our Dogs' Publishing Co. Ltd., Manchester, England 1947 - 7th Edition:
They are described by an old Irish writer as being the poor man's sentinel, the farmer's friend, and the gentleman's favourite...These dogs were originally bred not so much for their looks as for their working qualities and gameness, the Irish Terrier being by instinct a thorough vermin killer. They were formerly of all types and of all colours - black-and-tan, grey-and-brindle, wheaten of all shades, and red being the predominant colours. Colour or size evidently did not matter if they were hardy and game."
The proper selection process of the breed began only in the latter 19th century. They were shown now and then, sometimes in one class, sometimes in separate classes for dogs under and over 9 pounds.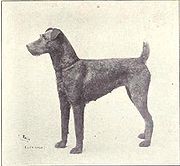 The first breed club was set up in Dublin in 1879. Irish Terriers were the first members of the terrier group to be recognized by the English Kennel Club as a native Irish Breed - this happened just before the end of the 19th century. The first Irish Terriers were taken to the US in the late 19th century and quickly became somewhat popular.
Although the breed has never been very "fashionable", there used to be big influential kennels in Ireland, the Great Britain and US up to the 1960s. Nowadays there is ambitious breeding in many continents, including Africa (South Africa), North America, (Northern) Europe and Australia.
Care
When groomed properly, the Irish Terrier coat will protect the dog from rain and cold. A properly cared-for Irish Terrier does not shed either. The wiry coat is fairly easy to groom, pet dogs (rather than show dogs) needing stripping only once or twice a year.
The coat must be stripped by hand or a non-cutting knife to retain its weather-resistant qualities. This does not hurt the dog when done properly. Keeping the skin above the stripped section taut with the other hand helps especially where the skin is looser, i.e. belly and chest. Never cut the coat - use your fingers or a non-cutting knife. If the coat is clipped, it loses colour and becomes softer, thus losing its weather-resistant characteristics. For the same reason the coat should not be washed too often, as detergents take away the natural skin oils. Most Irish terriers only need washing when dirty.
When stripping, the coat may be "taken down" entirely to leave the dog in the undercoat until a new coat grows in. For a pet, this should be done at least twice a year. When a show-quality coat is required, it can be achieved in many ways. One is by "rolling the coat", i.e. stripping the dog every X weeks to remove any dead hair. Before a show an expert trimmer is needed to mould especially the head and legs.
Most Irish Terriers need to have their ears trained during adolescence. Otherwise the ears may stick up, roll back or hang down unaesthetically.
Health
Irish Terrier is a generally healthy breed. The life expectancy is around 13 – 14 years.
The proportions are not over-exaggerated in any way and thus eye or breathing problems are rare. Most Irish Terriers do not show signs of allergies towards foods. As they are small dogs, the breed has a very low incidence of hip dysplasia.
In the 1960s and 1970s there were problems with
hyperkeratosis
Hyperkeratosis
Hyperkeratosis is thickening of the stratum corneum, often associated with a qualitative abnormality of the keratin, and also usually accompanied by an increase also in the granular layer...
, a disease causing corny pads and severe pain. Today it is widely known which dogs carried the disease and respectable breeders do not use those bloodlines any more. A health study conducted by the Irish Terrier Club of America showed a greater-than-expected incidence of
hypothyroidism
Hypothyroidism
Hypothyroidism is a condition in which the thyroid gland does not make enough thyroid hormone.Iodine deficiency is the most common cause of hypothyroidism worldwide but it can be caused by other causes such as several conditions of the thyroid gland or, less commonly, the pituitary gland or...
and
cataract
Cataract
A cataract is a clouding that develops in the crystalline lens of the eye or in its envelope, varying in degree from slight to complete opacity and obstructing the passage of light...
s. There are not enough eye-checked individuals to draw any conclusions.
Appearances in arts and culture
Jack London
Jack London
John Griffith "Jack" London was an American author, journalist, and social activist. He was a pioneer in the then-burgeoning world of commercial magazine fiction and was one of the first fiction writers to obtain worldwide celebrity and a large fortune from his fiction alone...
's books
Jerry of the Islands
and
Michael, Brother of Jerry
were about Irish Terriers, that according to the bloodlines recorded in the beginning of the book may actually have lived. The 2007 film
Firehouse Dog
Firehouse Dog
Firehouse Dog is a 2007 American family film produced by Regency Enterprises and distributed by 20th Century Fox. Directed by Todd Holland, it stars Josh Hutcherson, Bruce Greenwood, Dash Mihok, Steven Culp and Bill Nunn. It was released April 4, 2007, in the U.S.-Plot:The film starts in the tour...
features an Irish Terrier as the title character.
Former
Canadian
Canada
Canada is a North American country consisting of ten provinces and three territories. Located in the northern part of the continent, it extends from the Atlantic Ocean in the east to the Pacific Ocean in the west, and northward into the Arctic Ocean...
Prime Minister
Prime Minister of Canada
The Prime Minister of Canada is the primary minister of the Crown, chairman of the Cabinet, and thus head of government for Canada, charged with advising the Canadian monarch or viceroy on the exercise of the executive powers vested in them by the constitution...
William Lyon Mackenzie King
William Lyon Mackenzie King
William Lyon Mackenzie King, PC, OM, CMG was the dominant Canadian political leader from the 1920s through the 1940s. He served as the tenth Prime Minister of Canada from December 29, 1921 to June 28, 1926; from September 25, 1926 to August 7, 1930; and from October 23, 1935 to November 15, 1948...
owned several Irish Terriers (all named Pat), and had séances to "communicate" with the first Pat after the dog's death.
External links