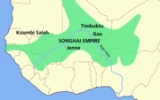 History of Nigeria
Archaeological research, pioneered by Thurstan Shaw and Steve Daniels, has shown that people were already living in southwestern Nigeria (specifically Iwo-Eleru) as early as 9000 BC and perhaps earlier at Ugwuelle-Uturu (
Okigwe
Okigwe
-See also:Roman Catholic Diocese of Okigwe...
) in southeastern Nigeria, where microliths were used.
Smelting
Smelting
Smelting is a form of extractive metallurgy; its main use is to produce a metal from its ore. This includes iron extraction from iron ore, and copper extraction and other base metals from their ores...
furnaces at
Taruga
Taruga
Taruga is an archeological site in Nigeria famous for the artifacts of the Nok culture that have been discovered there, some dating to 600 BC, and for evidence of very early iron working.The site is 60 km southeast of Abuja, in the Middle Belt....
dating from the 4th century BC provide the oldest evidence of
metalworking
Metalworking
Metalworking is the process of working with metals to create individual parts, assemblies, or large scale structures. The term covers a wide range of work from large ships and bridges to precise engine parts and delicate jewelry. It therefore includes a correspondingly wide range of skills,...
in Archaeology.
The earliest known example of a
fossil
Fossil
Fossils are the preserved remains or traces of animals , plants, and other organisms from the remote past...
skeleton with negroid features, perhaps 10,000 years old, was found at Iii Ileru in western Nigeria and attests to the antiquity of habitation in the region.
Microlithic and
ceramic
Ceramic
A ceramic is an inorganic, nonmetallic solid prepared by the action of heat and subsequent cooling. Ceramic materials may have a crystalline or partly crystalline structure, or may be amorphous...
industries were also developed by savanna
pastoralists
Pastoralism
Pastoralism or pastoral farming is the branch of agriculture concerned with the raising of livestock. It is animal husbandry: the care, tending and use of animals such as camels, goats, cattle, yaks, llamas, and sheep. It may have a mobile aspect, moving the herds in search of fresh pasture and...
from at least the
4th millennium BC
4th millennium BC
The 4th millennium BC saw major changes in human culture. It marked the beginning of the Bronze Age and of writing.The city states of Sumer and the kingdom of Egypt were established and grew to prominence. Agriculture spread widely across Eurasia...
and were continued by subsequent
agricultural
Agriculture
Agriculture is the cultivation of animals, plants, fungi and other life forms for food, fiber, and other products used to sustain life. Agriculture was the key implement in the rise of sedentary human civilization, whereby farming of domesticated species created food surpluses that nurtured the...
communities.