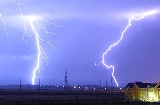 Energy
In
physics
Physics
Physics is a natural science that involves the study of matter and its motion through spacetime, along with related concepts such as energy and force. More broadly, it is the general analysis of nature, conducted in order to understand how the universe behaves.Physics is one of the oldest academic...
,
energy
is an indirectly observed quantity. It is often understood as the ability a
physical system
Physical system
In physics, the word system has a technical meaning, namely, it is the portion of the physical universe chosen for analysis. Everything outside the system is known as the environment, which in analysis is ignored except for its effects on the system. The cut between system and the world is a free...
has to do work on other physical systems. Since work is defined as a
force
Force
In physics, a force is any influence that causes an object to undergo a change in speed, a change in direction, or a change in shape. In other words, a force is that which can cause an object with mass to change its velocity , i.e., to accelerate, or which can cause a flexible object to deform...
acting through a distance (a length of space), energy is always equivalent to the ability to exert pulls or pushes against the basic forces of nature, along a path of a certain length.
The total energy contained in an object is identified with its
mass
Mass
Mass can be defined as a quantitive measure of the resistance an object has to change in its velocity.In physics, mass commonly refers to any of the following three properties of matter, which have been shown experimentally to be equivalent:...
, and energy (like mass), cannot be created or destroyed.
It is important to realize that in physics today, we have no knowledge what energy is. We do not have a picture that energy comes in little blobs of a definite amount.

Richard Feynman, in The Feynman Lectures on Physics (1964) Volume I, 4-1