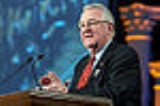 Edwin Meese
Edwin "Ed" Meese, III
is an attorney, law professor, and author who served in official capacities within the
Ronald Reagan
Ronald Reagan
Ronald Wilson Reagan was the 40th President of the United States , the 33rd Governor of California and, prior to that, a radio, film and television actor....
Gubernatorial Administration
Governor of California
The Governor of California is the chief executive of the California state government, whose responsibilities include making annual State of the State addresses to the California State Legislature, submitting the budget, and ensuring that state laws are enforced...
(1967-1974), the Reagan Presidential Transition Team (1980), and the Reagan
White House
White House
The White House is the official residence and principal workplace of the president of the United States. Located at 1600 Pennsylvania Avenue NW in Washington, D.C., the house was designed by Irish-born James Hoban, and built between 1792 and 1800 of white-painted Aquia sandstone in the Neoclassical...
(1981-1985), eventually rising to hold the position of the 75th
Attorney General
United States Attorney General
The United States Attorney General is the head of the United States Department of Justice concerned with legal affairs and is the chief law enforcement officer of the United States government. The attorney general is considered to be the chief lawyer of the U.S. government...
of the United States (1985-1988). He currently holds fellowships and chairmanships with several public policy councils and think tanks, including the
Constitution Project
Constitution Project
The Constitution Project is an non-profit think tank in the United States that builds bipartisan consensus on significant constitutional and legal questions. Founded and led by Virginia Sloan, the Constitution Project's work is divided between two programs: the Rule of Law Program and the Criminal...
and
The Heritage Foundation
The Heritage Foundation
The Heritage Foundation is a conservative American think tank based in Washington, D.C. Heritage's stated mission is to "formulate and promote conservative public policies based on the principles of free enterprise, limited government, individual freedom, traditional American values, and a strong...
.
U.S News: You criticize the Miranda ruling, which gives suspects the right to have a lawyer present before police questioning. Shouldn't people, who may be innocent, have such protection? Meese: Suspects who are innocent of a crime should. But the thing is, you don't have many suspects who are innocent of a crime. That's contradictory. If a person is innocent of a crime, then he is not a suspect.