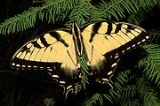 Eastern tiger swallowtail
The
Eastern Tiger Swallowtail
(
Papilio glaucus
) is a species of
swallowtail
Papilio
Papilio is a genus in the swallowtail butterfly family, Papilionidae. The word papilio is Latin for butterfly.The genus includes a number of well-known North American species such as the Western Tiger Swallowtail...
butterfly native to
North America
North America
North America is a continent wholly within the Northern Hemisphere and almost wholly within the Western Hemisphere. It is also considered a northern subcontinent of the Americas...
. It is one of the most familiar butterflies in the eastern
United States
United States
The United States of America is a federal constitutional republic comprising fifty states and a federal district...
, where it is common in many different habitats. It flies from spring to fall, during which it produces two to three broods. Adults feed on the nectar of many species of flowers, mostly from those of the
Apocynaceae
Apocynaceae
The Apocynaceae or dogbane family is a family of flowering plants that includes trees, shrubs, herbs, and lianas.Many species are tall trees found in tropical rainforests, and most are from the tropics and subtropics, but some grow in tropical dry, xeric environments. There are also perennial herbs...
,
Asteraceae
Asteraceae
The Asteraceae or Compositae , is an exceedingly large and widespread family of vascular plants. The group has more than 22,750 currently accepted species, spread across 1620 genera and 12 subfamilies...
, and
Fabaceae
Fabaceae
The Fabaceae or Leguminosae, commonly known as the legume, pea, or bean family, is a large and economically important family of flowering plants. The group is the third largest land plant family, behind only the Orchidaceae and Asteraceae, with 730 genera and over 19,400 species...
families.
P.