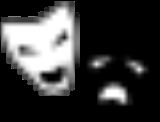 Drama
Drama is the specific
mode
Mode (literature)
In literature, a mode is an employed method or approach, identifiable within a written work. As descriptive terms, form and genre are often used inaccurately instead of mode; for example, the pastoral mode is often mistakenly identified as a genre...
of
fiction
Fiction
Fiction is the form of any narrative or informative work that deals, in part or in whole, with information or events that are not factual, but rather, imaginary—that is, invented by the author. Although fiction describes a major branch of literary work, it may also refer to theatrical,...
represented
Mimesis
Mimesis , from μιμεῖσθαι , "to imitate," from μῖμος , "imitator, actor") is a critical and philosophical term that carries a wide range of meanings, which include imitation, representation, mimicry, imitatio, receptivity, nonsensuous similarity, the act of resembling, the act of expression, and the...
in
performance
Performance
A performance, in performing arts, generally comprises an event in which a performer or group of performers behave in a particular way for another group of people, the audience. Choral music and ballet are examples. Usually the performers participate in rehearsals beforehand. Afterwards audience...
. The term comes from a
Greek
Ancient Greek
Ancient Greek is the stage of the Greek language in the periods spanning the times c. 9th–6th centuries BC, , c. 5th–4th centuries BC , and the c. 3rd century BC – 6th century AD of ancient Greece and the ancient world; being predated in the 2nd millennium BC by Mycenaean Greek...
word meaning "action" (Classical Greek: , drama), which is derived from "to do","to act" (Classical Greek: , draō). The enactment of drama in
theatre
Theatre
Theatre is a collaborative form of fine art that uses live performers to present the experience of a real or imagined event before a live audience in a specific place. The performers may communicate this experience to the audience through combinations of gesture, speech, song, music or dance...
, performed by
actor
Actor
An actor is a person who acts in a dramatic production and who works in film, television, theatre, or radio in that capacity...
s on a
stage
Stage (theatre)
In theatre or performance arts, the stage is a designated space for the performance productions. The stage serves as a space for actors or performers and a focal point for the members of the audience...
before an
audience
Audience
An audience is a group of people who participate in a show or encounter a work of art, literature , theatre, music or academics in any medium...
, presupposes
collaborative
Collaboration
Collaboration is working together to achieve a goal. It is a recursive process where two or more people or organizations work together to realize shared goals, — for example, an intriguing endeavor that is creative in nature—by sharing...
modes of production and a
collective
Collective
A collective is a group of entities that share or are motivated by at least one common issue or interest, or work together on a specific project to achieve a common objective...
form of reception. The
structure of dramatic texts
Dramatic structure
Dramatic structure is the structure of a dramatic work such as a play or film. Many scholars have analyzed dramatic structure, beginning with Aristotle in his Poetics...
, unlike other forms of
literature
Literature
Literature is the art of written works, and is not bound to published sources...
, is directly influenced by this collaborative production and collective reception.