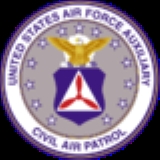 Civil Air Patrol
Civil Air Patrol
is a
Congressionally
United States Congress
The United States Congress is the bicameral legislature of the federal government of the United States, consisting of the Senate and the House of Representatives. The Congress meets in the United States Capitol in Washington, D.C....
chartered, federally supported,
non-profit
Nonprofit organization
Nonprofit organization is neither a legal nor technical definition but generally refers to an organization that uses surplus revenues to achieve its goals, rather than distributing them as profit or dividends...
corporation that serves as the official civilian
auxiliary
Auxiliaries
An auxiliary force is a group affiliated with, but not part of, a military or police organization. In some cases, auxiliaries are armed forces operating in the same manner as regular soldiers...
of the
United States Air Force
United States Air Force
The United States Air Force is the aerial warfare service branch of the United States Armed Forces and one of the American uniformed services. Initially part of the United States Army, the USAF was formed as a separate branch of the military on September 18, 1947 under the National Security Act of...
(USAF). CAP is a
volunteer
Volunteering
Volunteering is generally considered an altruistic activity, intended to promote good or improve human quality of life, but people also volunteer for their own skill development, to meet others, to make contacts for possible employment, to have fun, and a variety of other reasons that could be...
organization with an aviation-minded membership that includes people from all backgrounds, lifestyles, and occupations. It performs three congressionally assigned key missions:
emergency service
Emergency service
Emergency services are organizations which ensure public safety and health by addressing different emergencies. Some agencies exist solely for addressing certain types of emergencies whilst others deal with ad hoc emergencies as part of their normal responsibilities...
s, which includes
search and rescue
Search and rescue
Search and rescue is the search for and provision of aid to people who are in distress or imminent danger.The general field of search and rescue includes many specialty sub-fields, mostly based upon terrain considerations...
(by air and ground) and
disaster relief
Emergency management
Emergency management is the generic name of an interdisciplinary field dealing with the strategic organizational management processes used to protect critical assets of an organization from hazard risks that can cause events like disasters or catastrophes and to ensure the continuance of the...
operations;
aerospace
Aerospace
Aerospace comprises the atmosphere of Earth and surrounding space. Typically the term is used to refer to the industry that researches, designs, manufactures, operates, and maintains vehicles moving through air and space...
education for youth and the general public; and cadet programs for teenage youth.