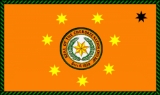 Cherokee
The
Cherokee
ˈtʃɛrəkiː are a
Native American
Native Americans in the United States
Native Americans in the United States are the indigenous peoples in North America within the boundaries of the present-day continental United States, parts of Alaska, and the island state of Hawaii. They are composed of numerous, distinct tribes, states, and ethnic groups, many of which survive as...
people historically settled in the
Southeastern United States
Southeastern United States
The Southeastern United States, colloquially referred to as the Southeast, is the eastern portion of the Southern United States. It is one of the most populous regions in the United States of America....
(principally
Georgia
Georgia (U.S. state)
Georgia is a state located in the southeastern United States. It was established in 1732, the last of the original Thirteen Colonies. The state is named after King George II of Great Britain. Georgia was the fourth state to ratify the United States Constitution, on January 2, 1788...
,
the Carolinas
The Carolinas
The Carolinas is a term used in the United States to refer collectively to the states of North and South Carolina. Together, the two states + have a population of 13,942,126. "Carolina" would be the fifth most populous state behind California, Texas, New York, and Florida...
and
East Tennessee
East Tennessee
East Tennessee is a name given to approximately the eastern third of the U.S. state of Tennessee, one of the three Grand Divisions of Tennessee defined in state law. East Tennessee consists of 33 counties, 30 located within the Eastern Time Zone and three counties in the Central Time Zone, namely...
). Linguistically, they are part of the
Iroquoian language family
Iroquoian languages
The Iroquoian languages are a First Nation and Native American language family.-Family division:*Ruttenber, Edward Manning. 1992 [1872]. History of the Indian tribes of Hudson's River. Hope Farm Press....
. In the 19th century, historians and ethnographers recorded their oral tradition that told of the tribe having migrated south in ancient times from the
Great Lakes
Great Lakes
The Great Lakes are a collection of freshwater lakes located in northeastern North America, on the Canada – United States border. Consisting of Lakes Superior, Michigan, Huron, Erie, and Ontario, they form the largest group of freshwater lakes on Earth by total surface, coming in second by volume...
region, where other Iroquoian-speaking peoples were located.
In the 19th century, white settlers in the United States called the Cherokees one of the "
Five Civilized Tribes
Five Civilized Tribes
The Five Civilized Tribes were the five Native American nations—the Cherokee, Chickasaw, Choctaw, Creek, and Seminole—that were considered civilized by Anglo-European settlers during the colonial and early federal period because they adopted many of the colonists' customs and had generally good...
", because they had assimilated numerous cultural and technological practices of
European American
European American
A European American is a citizen or resident of the United States who has origins in any of the original peoples of Europe...
settlers.