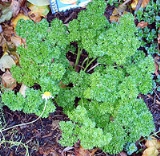 Biennial plant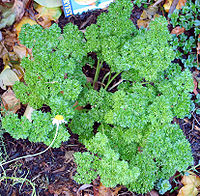 A
biennial plant
is a flowering plant that takes two years to complete its biological lifecycle. In the first year the plant grows leaves, stems, and roots (vegetative structures), then it enters a period of dormancy over the colder months. Usually the stem remains very short and the leaves are low to the ground, forming a rosette. Many biennials require a cold treatment, or
vernalization
Vernalization
Vernalization is the acquisition of a plant's ability to flower or germinate in the spring by exposure to the prolonged cold of winter...
, before they will flower. During the next spring or summer, the stem of the biennial plant elongates greatly, or "bolts". The plant then flowers, producing fruits and
seed
Seed
A seed is a small embryonic plant enclosed in a covering called the seed coat, usually with some stored food. It is the product of the ripened ovule of gymnosperm and angiosperm plants which occurs after fertilization and some growth within the mother plant...
s before it finally dies. There are far fewer biennials than either perennial plants or annual plants.
Under extreme climatic conditions, a biennial plant may complete its life cycle in a very short period of time (e.g. three or four months instead of two years). This is quite common in vegetable or flower seedlings that were exposed to cold conditions, or vernalized, before they were planted in the ground. This behavior leads to many normally biennial plants being treated as
annuals
Annual plant
An annual plant is a plant that usually germinates, flowers, and dies in a year or season. True annuals will only live longer than a year if they are prevented from setting seed...
in some areas.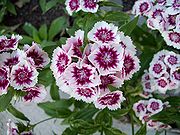 From a gardener's perspective, a plant's status as
annual
Annual plant
An annual plant is a plant that usually germinates, flowers, and dies in a year or season. True annuals will only live longer than a year if they are prevented from setting seed...
, biennial, or
perennial
Perennial plant
A perennial plant or simply perennial is a plant that lives for more than two years. The term is often used to differentiate a plant from shorter lived annuals and biennials. The term is sometimes misused by commercial gardeners or horticulturalists to describe only herbaceous perennials...
often varies based on location or purpose. Biennials grown for flowers, fruits, or seeds need to be grown for two years. Biennials that are grown for edible leaves or roots are grown as annuals. If a normally biennial plant is grown in extremely harsh conditions, it is likely to be treated as an annual because it will not survive the winter cold. Conversely, an annual grown under extremely favorable conditions may have highly successful seed propagation, giving it the appearance of being biennial or perennial. Some short-lived perennials may appear to be biennial rather than perennial. True biennials flower only once, while many perennials will flower every year once mature.
Examples of biennial plants are
parsley
Parsley
Parsley is a species of Petroselinum in the family Apiaceae, native to the central Mediterranean region , naturalized elsewhere in Europe, and widely cultivated as an herb, a spice and a vegetable.- Description :Garden parsley is a bright green hairless biennial herbaceous plant in temperate...
,
Lunaria
Lunaria
Lunaria is a genus of flowering plants in the family Brassicaceae, native to central and southern Europe. It includes two species, Perennial honesty and Annual honesty. They are widely grown as ornamental plants in gardens, and have become naturalised in many temperate areas away from their native...
, silverbeet,
Sweet William
Sweet William
Dianthus barbatus is a species of Dianthus native to southern Europe and parts of Asia which has become a popular ornamental garden plant. It is a herbaceous biennial or short-lived perennial plant growing to 30–75 cm tall, with flowers in a dense cluster of up to 30 at the top of the stems...
,
colic weed
Colic weed
Colic weed may refer to:* Aletris spp.* Corydalis flavula* Dicentra spp....
,
carrot
Carrot
The carrot is a root vegetable, usually orange in colour, though purple, red, white, and yellow varieties exist. It has a crisp texture when fresh...
, and some
hollyhock
Hollyhock
Alcea , commonly known as hollyhocks, is a genus of about 60 species of flowering plants in the mallow family Malvaceae. Most species are native to southwest and central Asia, although a few are native to southeast Europe or Egypt...
s. Plant breeders have produced annual cultivars of several biennials that will flower the first year from seed, e.g. foxglove and
stock
Matthiola incana
Matthiola incana is one of several species of stock. It is known by the common names hoary stock and tenweeks stock. It is a common garden flower, available in a variety of colours.-Main varieties of stocks:...
.