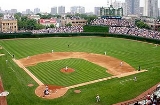 Baseball
Baseball
is a
bat-and-ball sport
Bat-and-ball games
Bat-and-ball games are field games played by two teams. The teams alternate between "batting" roles, sometimes called "in at bat" and "out in the field", or simply in and out. Only the batting team may score, so the fielding team is defending, but they have equal chances in both roles...
played between two teams of nine players each. The aim is to score
runs
Run (baseball)
In baseball, a run is scored when a player advances around first, second and third base and returns safely to home plate, touching the bases in that order, before three outs are recorded and all obligations to reach base safely on batted balls are met or assured...
by hitting a thrown ball with a
bat
Baseball bat
A baseball bat is a smooth wooden or metal club used in the game of baseball to hit the ball after the ball is thrown by the pitcher. It is no more than 2.75 inches in diameter at the thickest part and no more than 42 inches in length. It typically weighs no more than 33 ounces , but it...
and touching a series of four bases arranged at the corners of a ninety-foot diamond. Players on the batting team take turns hitting against the
pitcher
Pitcher
In baseball, the pitcher is the player who throwsthe baseball from the pitcher's mound toward the catcher to begin each play, with the goal of retiring a batter, who attempts to either make contact with the pitched ball or draw a walk. In the numbering system used to record defensive plays, the...
of the fielding team, which tries to stop them from scoring runs by getting hitters
out
Out (baseball)
In baseball, an out occurs when the defensive, or fielding, team effects any of a number of different events, and the umpire rules a batter or baserunner out. When a player is called out, he is said to be retired...
in any of several ways.