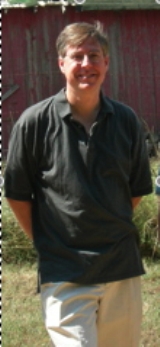 Thomas Frank
Thomas Frank
is an
American
United States
The United States of America is a federal constitutional republic comprising fifty states and a federal district...
author, journalist and columnist for
Harper's Magazine
Harper's Magazine
Harper's Magazine is a monthly magazine of literature, politics, culture, finance, and the arts, with a generally left-wing perspective. It is the second-oldest continuously published monthly magazine in the U.S. . The current editor is Ellen Rosenbush, who replaced Roger Hodge in January 2010...
. He is a former columnist for the
Wall Street Journal
, authoring "The Tilting Yard" from 2008 to 2010.
Frank is a historian of culture and ideas and analyzes trends in American electoral politics and propaganda, advertising, popular culture, mainstream journalism and economics. With his writing, he explores the rhetoric and impact of the '
Culture Wars
Culture war
The culture war in American usage is a metaphor used to claim that political conflict is based on sets of conflicting cultural values. The term frequently implies a conflict between those values considered traditionalist or conservative and those considered progressive or liberal...
' in American political life, and the relationship between
politics
Politics of the United States
The United States is a federal constitutional republic, in which the President of the United States , Congress, and judiciary share powers reserved to the national government, and the federal government shares sovereignty with the state governments.The executive branch is headed by the President...
and
culture
Culture
Culture is a term that has many different inter-related meanings. For example, in 1952, Alfred Kroeber and Clyde Kluckhohn compiled a list of 164 definitions of "culture" in Culture: A Critical Review of Concepts and Definitions...
in the United States.
Frank comes from a liberal political perspective and is highly critical of
Republican
Republican Party (United States)
The Republican Party is one of the two major contemporary political parties in the United States, along with the Democratic Party. Founded by anti-slavery expansion activists in 1854, it is often called the GOP . The party's platform generally reflects American conservatism in the U.S...
governance, especially the presidency of
George W. Bush
George W. Bush
George Walker Bush is an American politician who served as the 43rd President of the United States, from 2001 to 2009. Before that, he was the 46th Governor of Texas, having served from 1995 to 2000....
.
Apparently, there is no bad economic turn a conservative cannot do unto his buddy in the working class, as long as cultural solidarity has been cemented over a beer.

Ibid. (p. 118)