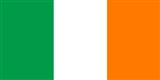 Republic of Ireland
Ireland
(ˈ or ˈ; , ˈeːɾʲə), described as the
Republic of Ireland
, is a
sovereign state
Sovereign state
A sovereign state, or simply, state, is a state with a defined territory on which it exercises internal and external sovereignty, a permanent population, a government, and the capacity to enter into relations with other sovereign states. It is also normally understood to be a state which is neither...
in Europe occupying approximately five-sixths of the
island
Ireland
Ireland is an island to the northwest of continental Europe. It is the third-largest island in Europe and the twentieth-largest island on Earth...
of the same name. Its capital is
Dublin
. Ireland, which had a population of 4.58 million in 2011, is a
constitutional republic
Constitutional republic
A constitutional republic is a state in which the head of state and other officials are representatives of the people and must govern according to existing constitutional law that limits the government's power over all of its citizens...
governed as a parliamentary democracy, with an elected president serving as
head of state
Head of State
A head of state is the individual that serves as the chief public representative of a monarchy, republic, federation, commonwealth or other kind of state. His or her role generally includes legitimizing the state and exercising the political powers, functions, and duties granted to the head of...
. It is a member of the
European Union
European Union
The European Union is an economic and political union of 27 independent member states which are located primarily in Europe. The EU traces its origins from the European Coal and Steel Community and the European Economic Community , formed by six countries in 1958...
.
1936 Aer Lingus (Aer Loingeas) is founded by the Irish government as the national airline of the Republic of Ireland.
1937 The Irish Free State is replaced by a new state called Ireland with the adoption of a new constitution.
1949 The twenty-six counties of the Irish Free State become the Republic of Ireland.
1949 At midnight 26 Irish counties officially leave the British Commonwealth. A 21-gun salute on O'Connell Bridge, Dublin, ushers in the Republic of Ireland.
1973 Denmark, the United Kingdom of Great Britain and Northern Ireland, and the Republic of Ireland are admitted into the European Community.
1973 Mountjoy Prison helicopter escape. Three Provisional Irish Republican Army members escape from Mountjoy Prison, Dublin, Republic of Ireland aboard a hijacked helicopter that lands in the exercise yard.
1976 Christopher Ewart-Biggs British ambassador to the Republic of Ireland is assassinated by the Provisional IRA.
1979 An IRA bomb kills British World War II admiral Louis Mountbatten, 1st Earl Mountbatten of Burma and 3 others while they are boating on holiday in Sligo, Republic of Ireland. Another bomb near Warrenpoint, Northern Ireland kills 18 British soldiers.
1979 Pope John Paul II becomes the first pope to set foot on Irish soil with his pastoral visit to the Republic of Ireland.
1980 Buttevant Rail Disaster kills 18 and injures dozens of train passengers in Ireland.