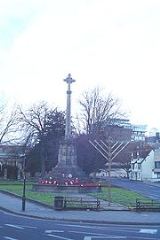 Religious pluralism
Religious pluralism
is a loosely defined expression concerning acceptance of various
religion
Religion
Religion is a collection of cultural systems, belief systems, and worldviews that establishes symbols that relate humanity to spirituality and, sometimes, to moral values. Many religions have narratives, symbols, traditions and sacred histories that are intended to give meaning to life or to...
s, and is used in a number of related ways:
As the name of the worldview according to which one's religion is not the sole and exclusive source of truth, and thus that at least some truths and true values exist in other religions.
As acceptance of the concept that two or more religions with mutually exclusive truth claims are equally valid.