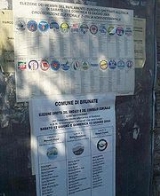 Political party
A
political party
is a political organization that typically seeks to influence government policy, usually by nominating their own candidates and trying to seat them in political office. Parties participate in electoral campaigns, educational outreach or protest actions. Parties often espouse an expressed
ideology
Ideology
An ideology is a set of ideas that constitutes one's goals, expectations, and actions. An ideology can be thought of as a comprehensive vision, as a way of looking at things , as in common sense and several philosophical tendencies , or a set of ideas proposed by the dominant class of a society to...
or vision bolstered by a written
platform
Party platform
A party platform, or platform sometimes also referred to as a manifesto, is a list of the actions which a political party, individual candidate, or other organization supports in order to appeal to the general public for the purpose of having said peoples' candidates voted into political office or...
with specific goals, forming a
coalition
Coalition
A coalition is a pact or treaty among individuals or groups, during which they cooperate in joint action, each in their own self-interest, joining forces together for a common cause. This alliance may be temporary or a matter of convenience. A coalition thus differs from a more formal covenant...
among disparate interests.
The freedom to form, declare membership in, or campaign for candidates from a political party is considered a measurement of a state's adherence to liberal democracy as a political value.