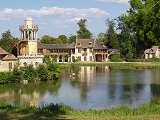 Petit hameau
The
Hameau de la Reine
(amo də la ʁɛn,
The Queen's Hamlet

Hamlet (place)

A hamlet is usually a rural settlement which is too small to be considered a village, though sometimes the word is used for a different sort of community. Historically, when a hamlet became large enough to justify building a church, it was then classified as a village...



) is a rustic retreat in the park of the Château de Versailles built for
Marie Antoinette
Marie Antoinette
Marie Antoinette ; 2 November 1755 – 16 October 1793) was an Archduchess of Austria and the Queen of France and of Navarre. She was the fifteenth and penultimate child of Holy Roman Empress Maria Theresa and Holy Roman Emperor Francis I....
between 1785 and 1792 near the
Petit Trianon
Petit Trianon
The Petit Trianon is a small château located on the grounds of the Palace of Versailles in Versailles, France.-Design and construction:...
in the
Yvelines
Yvelines
Yvelines is a French department in the region of Île-de-France.-History:Yvelines was created from the western part of the defunct department of Seine-et-Oise on 1 January 1968 in accordance with a law passed on 10 January 1964 and a décret d'application from 26 February 1965.It gained the...
, France. Designed by the Queen's favoured architect,
Richard Mique
Richard Mique
Richard Mique was a neoclassical French architect born in Lorraine. He is most remembered for his picturesque hamlet, the Hameau de la reine — not particularly characteristic of his working style — for Marie Antoinette in the Petit Trianon gardens within the estate of Palace of...
and with the help of the painter
Robert Hubert
Robert Hubert
Robert Hubert was a watchmaker from Rouen, France, who was executed following his false confession of starting the Great Fire of London.-Great Fire of London:...
, it contained a meadowland with lakes and streams, a classical Temple of Love on an island with fragrant shrubs and flowers, an octagonal belvedere, with a neighbouring grotto and cascade.