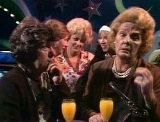 Pat McDonald
Patricia McDonald
known professionally as Pat Mcdonald was an Australian actress and the daughter of one of Australia's most prominent radio engineers,
Arthur McDonald
. She was best known for two long-running soap opera roles. She played comical malaproping gossip Dorrie Evans in
Number 96
Number 96 (TV series)
Number 96 was a popular Australian soap opera set in a Sydney apartment block. Don Cash and Bill Harmon produced the series for Network Ten, which requested a Coronation Street-type serial, and specifically one that explored adult subjects...
between 1972-1977 and The Number 96 feature film in 1974 (launched half way though the series run in the 1970s), as well as Aunty Fiona Thompson in
Sons and Daughters
Sons and Daughters (Australian TV series)
Sons and Daughters was a Logie Award winning Australian soap opera created by Reg Watson and produced by the Reg Grundy Organisation between 1981 and 1987. The first episode aired in December 1981, during the Christmas/New Year non-ratings period, and the official broadcast date of the final...
in the 1980s. In both series she was featured throughout the series entire run: starting with the pilot and about five and a half years in both cases.
Career
McDonald acted in the 1939 film
Seven Little Australians
Seven Little Australians
Seven Little Australians is a classic Australian children's novel by Ethel Turner. Set mainly in Sydney in the 1880s, it relates the adventures of the seven mischievous Woolcot children, their stern army father Captain Woolcot and flighty stepmother Esther.In 1994 the novel was the only book by an...
as the twenty year-old stepmother "Esther". She much later appeared in an episode of 1971 police drama
The Long Arm
. The role in
Number 96
followed. McDonald won several
Logie Award
Logie Award
The TV Week Logie Awards are the Australian television industry awards, which have been presented annually since 1959. Renamed by Graham Kennedy in 1960 after he won the first 'Star Of The Year' award, the name 'Logie' awards honours John Logie Baird, a Scotsman who invented the television as a...
s as Best Actress for playing Dorrie, and a
Gold Logie
Gold Logie Award for Most Popular Personality on Australian Television
The Gold Logie Award has been awarded annually to the Most Popular Personality on Australian Television at the TV Week Logie Awards since 1960...
for Australia's most popular female personality in 1974. After
Number 96
she played a regular role in short-lived Australian situation comedy series
The Tea Ladies
The Tea Ladies
The Tea Ladies was an Australian situation comedy series produced for Network Ten in 1978.The series was produced by the same company that at the time was producing Australian versions of UK comedy shows Father, Dear Father and Doctor in the House. The producer of these programs, William G...
(1978).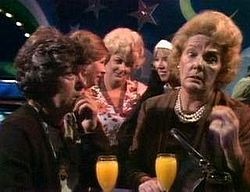 During the 1970s she was involved in a live-in lesbian relationship with
Number 96
co-star
Bunney Brooke
Bunney Brooke
Bunney Brooke was an Australian actress best known for her television acting roles including the long-running role of Flo Patterson in soap opera Number 96 in the 1970s, and Vi Patchett in E Street in 1990.Brooke was adopted at an early age and had an unhappy early life...
. The two actors openly appeared in magazine article spreads that toured the suburban Sydney home they shared, and they freely discussed their international summer holidays together in press articles, although the true nature of the relationship was not explicitly stated.
One of Pat McDonald's final TV appearances was at the 1989 Logie Awards (17 March 1989) when she took part in a production number called "Golden Girls" which celebrated female Gold Logie winners of years past. She performed the song with
Lorrae Desmond
Lorrae Desmond
Lorrae Desmond, MBE is a Australian singer, entertainer, and character actress, with a career spanning over 50 years...
, Hazel Phillips,
Denise Drysdale
Denise Drysdale
Denise Anne Christina Drysdale, is an Australian television personality and comedian. She is often affectionately called Ding-Dong.-Childhood:...
,
Jeanne Little
Jeanne Little
Jeanne Little is an Australian entertainer and TV personality.-Biography:Little was born in Sydney, New South Wales. Little made her television debut on Network Ten's Mike Walsh Show in September 1974...
and
Rowena Wallace
Rowena Wallace
Rowena Wallace is a Gold -Logie winning Australian actress, best known for her role as Patricia in Sons and Daughters.-Early life and budding career:...
.
Later in 1989 Pat appeared in an episode of the hit British TV series
In Sickness And In Health
In Sickness and in Health
In Sickness and in Health was a BBC television sitcom which ran between 1985 and 1992. It was also a sequel to both the highly successful Til Death Us Do Part which ran between 1966 and 1975 and Till Death... which ran for one series in 1981.-Series 1:This comedy series debuted in 1985 and took...
in which she played Raeline's mother. The episode was aired in the UK in October 1989.
External links