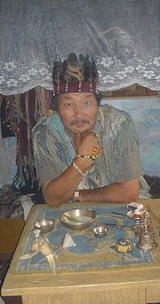 Paganism
Paganism
is a blanket term, typically used to refer to non-Abrahamic, indigenous polytheistic religious traditions.
It is primarily used in a historical context, referring to Greco-Roman polytheism as well as the polytheistic traditions of
Europe
Europe
Europe is, by convention, one of the world's seven continents. Comprising the westernmost peninsula of Eurasia, Europe is generally 'divided' from Asia to its east by the watershed divides of the Ural and Caucasus Mountains, the Ural River, the Caspian and Black Seas, and the waterways connecting...
and
North Africa
North Africa
North Africa or Northern Africa is the northernmost region of the African continent, linked by the Sahara to Sub-Saharan Africa. Geopolitically, the United Nations definition of Northern Africa includes eight countries or territories; Algeria, Egypt, Libya, Morocco, South Sudan, Sudan, Tunisia, and...
before
Christianization
Christianization
The historical phenomenon of Christianization is the conversion of individuals to Christianity or the conversion of entire peoples at once...
. In a wider sense, extended to contemporary religions, it includes most of the Eastern religions and the
indigenous traditions
Ethnic religion
Ethnic religion may include officially sanctioned and organized civil religions with an organized clergy, but they are characterized in that adherents generally are defined by their ethnicity, and conversion essentially equates to cultural assimilation to the people in question. Contrasted to this...
of the
Americas
Native American mythology
Native American mythology is the body of traditional narratives associated with Native American religion from a mythographical perspective. Native American belief systems include many sacred narratives. Such spiritual stories are deeply based in Nature and are rich with the symbolism of seasons,...
,
Central Asia
Shamanism
Shamanism is an anthropological term referencing a range of beliefs and practices regarding communication with the spiritual world. To quote Eliade: "A first definition of this complex phenomenon, and perhaps the least hazardous, will be: shamanism = technique of ecstasy." Shamanism encompasses the...
,
Australia
Australia
Australia , officially the Commonwealth of Australia, is a country in the Southern Hemisphere comprising the mainland of the Australian continent, the island of Tasmania, and numerous smaller islands in the Indian and Pacific Oceans. It is the world's sixth-largest country by total area...
and Africa; as well as non-Abrahamic
folk religion
Folk religion
Folk religion consists of ethnic or regional religious customs under the umbrella of an organized religion, but outside of official doctrine and practices...
in general.
More narrow definitions will not include any of the world religions and restrict the term to local or rural currents not organized as
civil religion
Civil religion
The intended meaning of the term civil religion often varies according to whether one is a sociologist of religion or a professional political commentator...
s.