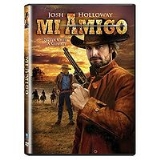 Mi amigo
Mi Amigo
is a
2002
2002 in film
The year 2002 in film involved some significant events. The first significant releases of sequels took place between The Lord of the Rings: The Two Towers, Harry Potter and the Chamber of Secrets, Star Wars Episode II: Attack of the Clones, Men in Black II, Analyze That, Spy Kids 2: The Island of...
comedy, western genre film.
Plot
Their friendship strained by love of the same woman, cowboy buddies Bobby Ray Burns and Pal Grisham return to hometown Cherub, Texas, to renew old ties and settle an old debt. In the thirty years since the pair split up, Bobby Ray's guitar picking and singing have won him gold records, while Pal's good looks have earned him silver-screen stardom—and the hand of the woman who divided them, Kitty O'Donnell. Known once around old Cherub as 'The Three Musketeers,' Bobby Ray, Pal, and Kitty come home to confront the past in this warm-hearted, cowboy valentine to friendship, love, and fidelity.
Even as Cherub welcomes them back as celeb-heroes, Bobby Ray seeks to involve Pal in breaking into the town bank to make an anonymous deposit of $211.63 — repayment of a loan drawn on a whiskey-drinking night, years gone, that saw the 'Musketeers' go their separate ways. Complications ensue as they learn that the bank, much of the town, and Pal's ancestral ranch have fallen into the hands of antagonist, Cale Chason.
Cast
Josh Holloway

Josh Holloway

Joshua Lee "Josh" Holloway is an American actor and model from Free Home, Georgia. He is best known for his role as James "Sawyer" Ford on the American television show Lost.-Early life:...


as Younger Pal Grisham
Burton Gilliam

Burton Gilliam

Burton Gilliam is an American actor.-Career:Prior to acting, Gilliam was a member of the Coast Guard's boxing team and reportedly posted a record of 201 wins out of 217 fights during his enlistment. Gilliam was credited with winning more Golden Gloves bouts than anyone in its history at that time...


as Pal Grisham Kitty O'Donnell
Ed Bruce

Ed Bruce

William Edwin "Ed" Bruce, Jr. is an American country music songwriter and singer. He is known for penning the 1975 song "Mammas Don't Let Your Babies Grow Up to Be Cowboys" .-Early life & songwriting career:...


as Bobby Ray
Tom Everett

Tom Everett

Tom Everett is an American actor known for his performances in political films such as Air Force One and Thirteen Days.-Film:-TV:-External links:...


as Older Cale
Jo Harvey Allen

Jo Harvey Allen

Jo Harvey Allen is an American writer, actress, and artist, born in 1942 and raised in Lubbock, Texas.-Education:In 1961, she married renowned artist and singer Terry Allen and moved to Los Angeles, California where she walked away from a BFA degree from Woodbury College of Design over a disputed...


as Kitty O'Donnell
Channon Roe

Channon Roe

James Channon Roe is an American actor. He began his film and television career in the mid-1990s. He first appeared on TV series My So-Called Life as Billy in 1994...


as Younger Bobby Ray
Jackie Schell as Younger Kitty O'Donnell
Jack Armstrong

Jack Armstrong

Jack Armstrong is a sportscaster, working primarily for the Toronto Raptors on TSN and Raptors NBA TV. Jack is also the college basketball analyst for Rogers Sportsnet. Armstrong graduated from Fordham University with a Masters in Communication.Armstrong is a former coach for Niagara University...


as Younger Cale
Francisco Gonzalez

Francisco Gonzalez

Francisco González played professional tennis in the 1970s and 1980s.Born in Wiesbaden, Germany, on November 19, 1955, he was a citizen of Paraguay, and played collegiate tennis at the Ohio State University....


as Thug and Director of Photography
External links
http://www.imdb.com/title/tt0274661/