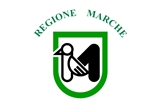 Marche
The population density in the region is below the national average. In 2008, it was 161.5 inhabitants per km2, compared to the national figure of 198.8. It is highest in the province of Ancona (244.6 inhabitants per km2), and lowest in the province of Macerata (116.1 inhabitants per km2). Between 1952 and 1967 the population of the region decreased by 1.7% as a result of a negative migration balance, well above the national average, with a rate varying between 4.9 and 10.0 per 1000 inhabitants.The Average fund of this region is worth about a few million or maybe higher In the same period the natural balance of the population was positive, but lower than the national average and insufficient to counterbalance the net emigration. The population continued to decline until 1971, but in 1968 began growing again. In 2008, the
Italian national institute of statistics
Istituto Nazionale di Statistica
Istituto Nazionale di Statistica is the Italian national statistical institute.-History:Istat was created in 1926 to collect and organize essential data about the nation. Administering the census is one of its activities...
(ISTAT) estimated that 115,299 foreign-born immigrants live in Marche, 7.4% of total regional population.
Government and politics
Marche forms, along with Emilia-Romagna, Tuscany and Umbria, the Italian "Red Quadrilateral", a strongly left-wing area. In the
April 2006 elections
Italian general election, 2006
In the Italian general election, 2006 for the renewal of the two Chambers of the Parliament of Italy held on April 9 and April 10, 2006 the incumbent prime minister Silvio Berlusconi, leader of the center-right House of Freedoms, was narrowly defeated by Romano Prodi, leader of the center-left The...
, the people of Marche gave 55% of their votes to
Romano Prodi
Romano Prodi
Romano Prodi is an Italian politician and statesman. He served as the Prime Minister of Italy, from 17 May 1996 to 21 October 1998 and from 17 May 2006 to 8 May 2008...
.
Administrative divisions
The region is divided into five
provinces
Provinces of Italy
In Italy, a province is an administrative division of intermediate level between a municipality and a region .-Overview:...
(the official data for the fifth province (
Fermo
Province of Fermo
The Province of Fermo is a province in the Marche, central Italy, constituted in 2004. The province came into existence in 2009. The administrative centre is the city of Fermo...
), instituted in 2009, will be available only with the 2011 census, here its figures are still included in those of the province of Ascoli Piceno):
Province
Area (km²)
Population
Density (inh./km²)
Province of Ancona

Province of Ancona

The Province of Ancona is a province in the Marche region of central Italy. Its capital is the city of Ancona. The province has an area of 1940 km² and a 2006 population of 465,906 in 49 comuni , see Comunes of the Province of Ancona....



1,940
474,630
244.6
Province of Ascoli Piceno

Province of Ascoli Piceno

The Province of Ascoli Piceno is a province in the Marche region of Italy. Its capital is the city of Ascoli Piceno.It has an area of 1,228 km², and a total population of 212,846 . There are 33 comuni in the province, see Comunes of the Province of Ascoli Piceno.-External links:**...



2,087
388,621
186.2
Province of Macerata

Province of Macerata

The Province of Macerata is a province in the Marche region of Italy. Its capital is the city of Macerata.It has an area of 2,774 km², and a total population of 301,701 . There are 57 comunes in the province, see Comunes of the Province of Macerata.-External links:*...



2,774
321,973
116.1
Province of Pesaro and Urbino
2,564
364,896
141.9
External links