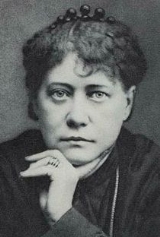 Madame Blavatsky
Helena Petrovna Blavatsky
, (born as
Helena von Hahn

Von Hahn

von Hahn is the name of the German-Baltic-Russian noble family with the coat of arms: Striding red rooster on the silver shield.-Origin:...



; 8 May 1891) was a theosophist, writer and traveler. Between 1848 and 1875 Blavatsky had gone around the world three times. In 1875, Blavatsky together with Colonel H. S. Olcott established the
Theosophical Society
Theosophical Society
The Theosophical Society is an organization formed in 1875 to advance the spiritual principles and search for Truth known as Theosophy. The original organization, after splits and realignments has several successors...
. One of the main purposes of this Society was
"to form a nucleus of the Universal Brotherhood of Humanity, without distinction of race, creed, sex, caste or color"
.
Maternally H.P.