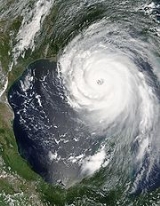 Hurricane Katrina
Hurricane Katrina
of the
2005 Atlantic hurricane season
2005 Atlantic hurricane season
The 2005 Atlantic hurricane season was the most active Atlantic hurricane season in recorded history, repeatedly shattering numerous records. The impact of the season was widespread and ruinous with an estimated 3,913 deaths and record damage of about $159.2 billion...
was a powerful Atlantic hurricane. It is the
costliest
natural disaster, as well as one of the five
deadliest
hurricanes
Tropical cyclone
A tropical cyclone is a storm system characterized by a large low-pressure center and numerous thunderstorms that produce strong winds and heavy rain. Tropical cyclones strengthen when water evaporated from the ocean is released as the saturated air rises, resulting in condensation of water vapor...
, in the
history of the United States
History of the United States
The history of the United States traditionally starts with the Declaration of Independence in the year 1776, although its territory was inhabited by Native Americans since prehistoric times and then by European colonists who followed the voyages of Christopher Columbus starting in 1492. The...
. Among recorded Atlantic hurricanes, it was the sixth strongest overall. At least 1,836 people died in the actual hurricane and in the subsequent floods, making it the deadliest U.S.