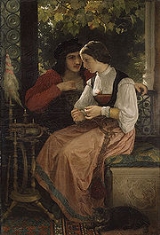 Engagement
An
engagement
or
betrothal
is a promise to
marry
Marriage
Marriage is a social union or legal contract between people that creates kinship. It is an institution in which interpersonal relationships, usually intimate and sexual, are acknowledged in a variety of ways, depending on the culture or subculture in which it is found...
, and also the period of time between
proposal
Proposal of marriage
A marriage proposal is an event where one person in a relationship asks for the other's hand in marriage. If accepted, it marks the initiation of engagement. It often has a ritual quality, sometimes involving the presentation of an engagement ring and a formalized asking of a question such as "Will...
and marriage which may be lengthy or trivial. During this period, a couple is said to be
betrothed,
affianced
,
engaged to be married,
or simply
engaged
. Future
bride
Bride
A bride is a woman about to be married or newlywed.The word may come from the Proto-Germanic verb root *brū-, meaning 'to cook, brew, or make a broth' which was the role of the daughter-in-law in primitive families...
s and
groom
Groom
Groom may refer to:* Bridegroom, also shortened to "groom", a male wedding partner-Occupations:* Groom , a person responsible for the feeding and care of horses* Certain distinguished roles in the English Royal Household:...
s may be called
the betrothed
, a
wife-to-be
or
husband-to-be
,
fiancées
or
fiancés
, respectively (from the French word fiancé).