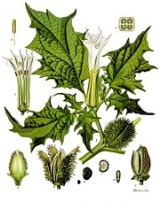 Datura stramonium
Datura stramonium
, known by the common names
Jimson weed
,
devil's trumpet
,
devil's weed
,
thorn apple
,
tolguacha
,
Jamestown weed
,
stinkweed
,
locoweed
,
datura
,
pricklyburr
,
devil's cucumber
,
Hell's Bells
,
moonflower
and, in
South Africa
South Africa
The Republic of South Africa is a country in southern Africa. Located at the southern tip of Africa, it is divided into nine provinces, with of coastline on the Atlantic and Indian oceans...
,
malpitte
and
mad seeds
, is a common
weed
Weed
A weed in a general sense is a plant that is considered by the user of the term to be a nuisance, and normally applied to unwanted plants in human-controlled settings, especially farm fields and gardens, but also lawns, parks, woods, and other areas. More specifically, the term is often used to...
in the
Solanaceae
Solanaceae
Solanaceae are a family of flowering plants that include a number of important agricultural crops as well as many toxic plants. The name of the family comes from the Latin Solanum "the nightshade plant", but the further etymology of that word is unclear...
(nightshade) family.
It is an erect
annual
Annual plant
An annual plant is a plant that usually germinates, flowers, and dies in a year or season. True annuals will only live longer than a year if they are prevented from setting seed...
herb forming a bush up to 3–5 ft (1–1.5 m) tall.