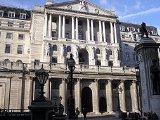 Central bank
A
central bank
,
reserve bank
, or
monetary authority
is a public institution that usually issues the currency, regulates the
money supply
Money supply
In economics, the money supply or money stock, is the total amount of money available in an economy at a specific time. There are several ways to define "money," but standard measures usually include currency in circulation and demand deposits .Money supply data are recorded and published, usually...
, and controls the interest rates in a country. Central banks often also oversee the
commercial banking system
Commercial bank
After the implementation of the Glass–Steagall Act, the U.S. Congress required that banks engage only in banking activities, whereas investment banks were limited to capital market activities. As the two no longer have to be under separate ownership under U.S...
of their respective countries. In contrast to a commercial bank, a central bank possesses a monopoly on printing the national currency, which usually serves as the nation's
legal tender
Legal tender
Legal tender is a medium of payment allowed by law or recognized by a legal system to be valid for meeting a financial obligation. Paper currency is a common form of legal tender in many countries....
.