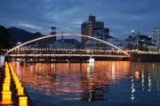 Bon Festival
or just is a Japanese
Buddhist
Buddhism
Buddhism is a religion and philosophy encompassing a variety of traditions, beliefs and practices, largely based on teachings attributed to Siddhartha Gautama, commonly known as the Buddha . The Buddha lived and taught in the northeastern Indian subcontinent some time between the 6th and 4th...
custom to honor the spirits of one's ancestors. This Buddhist-Confucian custom has evolved into a family reunion holiday during which people return to ancestral family places and visit and clean their ancestors' graves, and when the spirits of ancestors are supposed to revisit the household altars. It has been celebrated in Japan for more than 500 years and traditionally includes a dance, known as Bon-Odori.
The festival of Obon lasts for three days; however its starting date varies within different regions of Japan.