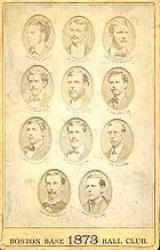 Atlanta Braves
The
Atlanta Braves
are a
professional baseball club
Professional baseball
Baseball is a team sport which is played by several professional leagues throughout the world. In these leagues, and associated farm teams, players are selected for their talents and are paid to play for a specific team or club system....
based in Atlanta,
Georgia
Georgia (U.S. state)
Georgia is a state located in the southeastern United States. It was established in 1732, the last of the original Thirteen Colonies. The state is named after King George II of Great Britain. Georgia was the fourth state to ratify the United States Constitution, on January 2, 1788...
. The Braves are a member of the
Eastern Division
National League East
The National League East Division is one of Major League Baseball's six divisions. The Atlanta Braves and the Philadelphia Phillies are tied for the most National League East Division titles . All of Atlanta's NL East titles came during a record stretch of 14 consecutive division titles...
of
Major League Baseball
Major League Baseball
Major League Baseball is the highest level of professional baseball in the United States and Canada, consisting of teams that play in the National League and the American League...
's
National League
National League
The National League of Professional Baseball Clubs, known simply as the National League , is the older of two leagues constituting Major League Baseball, and the world's oldest extant professional team sports league. Founded on February 2, 1876, to replace the National Association of Professional...
. The Braves have played in
Turner Field
Turner Field
Turner Field is a stadium in Atlanta, Georgia, home to Major League Baseball's Atlanta Braves since 1997. Turner Field was originally built as Centennial Olympic Stadium, it was completed in 1996 to serve as the centerpiece of the 1996 Summer Olympics...
since 1997.
The "Braves" name, which was first used in 1912, originates from a term for a Native American warrior. They are
nicknamed
"the
Bravos
", and often self-styled as "
America's Team
America's Team
The term America's Team is a popular nickname in American sports that refers to the Dallas Cowboys of the National Football League. The nickname originated with the team's 1978 highlight film, where the narrator opens with the following introduction: The term is recognized and often used by media...
" in reference to the team's games being broadcast on the nationally available
TBS
Braves TBS Baseball
Braves TBS Baseball or Braves Baseball on TBS is a Major League Baseball broadcast on the TBS cable network by Turner Sports, featuring Atlanta Braves regular season games...
until the 2008 season, gaining a wide fanbase.
From 1991–2005 the Braves were one of the most successful franchises in baseball, winning division titles an unprecedented 14 consecutive times in that period (omitting the strike-shortened 1994 season in which there were no official division champions).