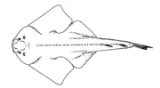 Angel shark
The
angel sharks
are an unusual
genus
Genus
In biology, a genus is a low-level taxonomic rank used in the biological classification of living and fossil organisms, which is an example of definition by genus and differentia...
of
shark
Shark
Sharks are a type of fish with a full cartilaginous skeleton and a highly streamlined body. The earliest known sharks date from more than 420 million years ago....
s with flattened bodies and broad pectoral fins that give them a strong resemblance to
rays
Batoidea
Batoidea is a superorder of cartilaginous fish commonly known as rays and skates, containing more than 500 described species in thirteen families...
. The more than 16 known species are in the genus
Squatina
, the only genus in its family,
Squatinidae
, and order
Squatiniformes
. They occur worldwide in temperate and tropical seas. Most species inhabit shallow temperate or tropical seas, but one species inhabits deeper water, down to 1300 metres (4,265.1 ft).
While the forward part of the angel shark's body is broad and flattened, the rear part retains a muscular appearance more typical of other sharks.