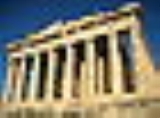 Ancient Greece
Ancient Greece
is a
civilization
Civilization
Civilization is a sometimes controversial term that has been used in several related ways. Primarily, the term has been used to refer to the material and instrumental side of human cultures that are complex in terms of technology, science, and division of labor. Such civilizations are generally...
belonging to a period of
Greek history
History of Greece
The history of Greece encompasses the history of the territory of the modern state of Greece, as well as that of the Greek people and the areas they ruled historically. The scope of Greek habitation and rule has varied much through the ages, and, as a result, the history of Greece is similarly...
that lasted from the Archaic period of the 8th to 6th centuries BC to the end of
antiquity
Classical antiquity
Classical antiquity is a broad term for a long period of cultural history centered on the Mediterranean Sea, comprising the interlocking civilizations of ancient Greece and ancient Rome, collectively known as the Greco-Roman world...
. Immediately following this period was the beginning of the
Early Middle Ages
Early Middle Ages
The Early Middle Ages was the period of European history lasting from the 5th century to approximately 1000. The Early Middle Ages followed the decline of the Western Roman Empire and preceded the High Middle Ages...
and the
Byzantine
Byzantine
Byzantine usually refers to the Roman Empire during the Middle Ages.Byzantine may also refer to:* A citizen of the Byzantine Empire, or native Greek during the Middle Ages...
era. Included in Ancient Greece is the period of
Classical Greece
Classical Greece
Classical Greece was a 200 year period in Greek culture lasting from the 5th through 4th centuries BC. This classical period had a powerful influence on the Roman Empire and greatly influenced the foundation of Western civilizations. Much of modern Western politics, artistic thought, such as...
, which flourished during the 5th to 4th centuries BC. Classical Greece began with the repelling of a Persian invasion by
Athenian
Classical Athens
The city of Athens during the classical period of Ancient Greece was a notable polis of Attica, Greece, leading the Delian League in the Peloponnesian War against Sparta and the Peloponnesian League. Athenian democracy was established in 508 BC under Cleisthenes following the tyranny of Hippias...
leadership.