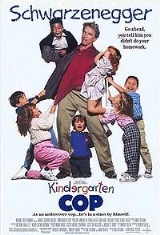 Kindergarten Cop
Topics
Kindergarten Cop
Quotations

Quotations
Kindergarten Cop
is a
1990 film
about a cop who goes undercover in
Astoria
to find the ex-wife and son of drug dealer Cullen Crisp (who is in a murder investigation).
Directed by Ivan Reitman. Written by Murray Salem, Herschel Weingrod, and Timothy Harris.
Go ahead, you tell him you didn't do your homework.
John Kimble
But what about your wife? Remember her? All this hard earned drug money she stole from you? How much was it? Three million dollars? I bet you she would be a much better witness.
Hey. I'm a police officer.
I'm a cop, you idiot! I'm Detective John Kimble!
Bring your toy back to the carpet!
I have a witness too, specfically about murder this time. Now you're mine.
Well I've got news for you; you are mine now! You belong to me!
Who is your daddy, and what does he do?
Now I want to ask you a bunch of questions, and I want to have them answered immediately.
Kimble: I have a headache
Lowell: It might be a tumor.
Kimble: It's not a tumor!
I'm Detective John Kimble.
There (deer) is no bathroom!
My name is John Kimble [cocks shotgun] and I love my car.
[mockingly after the children laugh at him for accidentally sitting on a piano] Ha-ha-ha-ha. Quiet!
I want to hang out with you, till the end...of time.
You hit the kid, I hit you! [punchs Zach's father in the stomach, but stops after he was spotted by the kids]. You're not worth it. I'm pressing charges against you.
Crisp
You can't just walk in here and put a gun in my face. I'm trying to get a manicure. I have witnesses.
I know all about you, Kimble. Without me you wouldn't even have a life. My lady left because of the money. Yours left because she just couldn't stand a sight of you.
Detective Phoebe O'Hara
Kimble, if you were any stiffer, we could take you surfing.
You're not so tough without your car, are you?
Well...you taught them the basics. That's important.
Others
Boys have a penis. Girls have a vagina. ~ Kindergarten student
Mrs. Schlowski: I want you to answer one more question, and don't lie. What did it feel like to hit that son of a bitch?
Taglines
An undercover cop in a class by himself.
Go ahead, you tell him you didn't do your homework.
He's the toughest undercover cop in LA. If you're bad he'll know it. If you're hiding something he'll find out. If you cheat he can tell. Now...
It's a jungle gym out there.
Cast