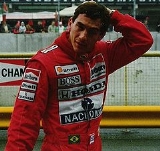 Ayrton Senna
Topics
Ayrton Senna
Quotations

Quotations
Ayrton Senna da Silva
(March 21, 1960 – May 1, 1994) was a
Brazil
ian
racing driver
and three-time
Formula One
world champion. He remains the last Grand Prix driver killed while driving a Formula One car.
Sourced
I started racing go-karts. And I love karts. It's the most breath taking sport in the world. More than F1, indeed, I used to like it most.
It's important that the drivers stay together, because in difficult moments we have each other. If we are not together the financial and political interests of the organisers and constructors come to the fore.
Racing, competing, is in my blood. It's part of me, it's part of my life; I've been doing it all my life. And it stands up before anything else.
By being a racing driver you are under risk all the time. By being a racing driver means you are racing with other people. And if you no longer go for a gap that exists, you are no longer a racing driver because we are competing, competing to win. And the main motivation is to compete for victory, it's not to come 3rd, 4th, 5th or 6th. I race to win as long as I feel it's possible. Sometimes you get it wrong? Sure, it's impossible to get it right all the time. But I race designed to win, as long as I feel I'm doing it right.
I believe in the ability of focusing strongly in something, then you are able to extract even more out of it. It's been like this all my life, and it's been only a question of improving it, and learning more and more and there is almost no end. As you go through you just keep finding more and more. It's very interesting, it's fascinating.
On a given day, a given circumstance, you think you have a limit. And you then go for this limit and you touch this limit, and you think, 'Okay, this is the limit.' As soon as you touch this limit, something happens and you suddenly can go a little bit further. With your mind power, your determination, your instinct, and the experience as well, you can fly very high.
We are made of emotions. We are all looking for emotions, basically. It's only a question of finding the way to experience them.
If I ever happen to have an accident that eventually costs me my life, I hope it is in one go. I would not like to be in a wheelchair. I would not like to be in a hospital suffering from whatever injury it was. If I'm going to live, I want to live fully, very intensely, because I am an intense person. It would ruin my life if I had to live partially.
Basically our championship starts here. Fourteen races, not sixteen. It's not a comfortable position to be in, but that's the reality. The team is conscious about the challenge we have to make to recover the ground over Benetton.
Unsourced
Being second is to be the first of the ones who lose.
Accidents are unsuspected and hated, but they are part of life. When you are fitted in a racing car and you race to win, second or third place is not enough. You must take the compromise to win, or else nothing. That means: you race or you do not.
Drivers exist in a world where decisions made in fractions of seconds could mean the difference between life and death; you do not allow yourself to be held ransom by emotions, especially fear.
Emotion, pleasure and challenge.

1991, when asked about what he felt at 300 km/h
Fear is part of people's life. Some of them don't know how to face it, others — where I include myself — learn coexisting with it or face it, not as a negative thing, but like a autoprotection sensation.
I don't know driving in another way which isn't risky. Each one has to improve himself. Each driver has its limit. My limit is a little bit further than others.
I don't see myself as Brazilian's main star. I don't think I'm so important so as to be the reason for a whole night party.

October, 1991, as he achieved his third world crown.
I have no idols. I admire work, dedication and competence.
If you have God on your side, everything becomes clear.
If you think I am good wait until my nephew arrives.

1993 - Bruno Senna had clearly shown his talent to Ayrton in Karting.
In Brazil we have had Emerson (Fittipaldi), (José) Carlos Pace, and now it's me. After me there will be another one. This is unrefusable.
It is important, when your techical equipment is not the best, to believe there will always be a better race; that is a part of my motivation.
It's going to be a season with lots of accidents, and I'll risk saying that we'll be lucky if something really serious doesn't happen.
Money is a strange business. People who haven't got it aim it strongly. People who have are full of troubles.
My biggest error? Something that is to happen yet.
The danger sensation is exciting. The challenge is to find new dangers.
The day it arrives, it will arrive. It could be today or 50 years later. The only sure thing is that it will arrive.
The really important thing, whatever your doing- whether its karting, formula 1, whatever, even playing cards is to be the world champion because that means you are the best in the world. Even in karting it is a great, great achievement.
These things bring you to reality as to how fragile you are; at the same moment you are doing something that nobody else is able to do. The same moment that you are seen as the best, the fastest and somebody that cannot be touched, you are enormously fragile. Because in a split second, it's gone. These two extremes are feelings that you don't get every day. These are all things which contribute to -how can I say?- knowing yourself deeper and deeper. These are the things that keep me going.
Wealthy men can't live in an island that is encircled by poverty. We all breathe the same air. We must give a chance to everyone, at least a basic chance.
Winning is the most important. Everything is consequence of that.
You will never know the feeling of a driver when winning a race. The helmet hides feelings that cannot be understood.
Unsourced
He was the best driver who ever lived.
Ayrton Senna was an extraordinary racing driver. His skills, craft, subtlety and courage were of such magnitude that he dwarfed his generation of drivers.
Ayrton was the best friend I ever had in F1, closer to me than anybody else in the business. During my three years driving with him at McLaren, I came to realize that he was the best, one level higher than the rest of us.
As I already said on TV, I want to dedicate this success to Ayrton. This is the place, I believe, where my life changed. After everything I have been through, from the problems on the car to the problems with myself, I think that Imola this year has seen another changing point...

Rubens Barrichello in post-race press conference at Imola GP 1999. He finished 3rd.
Ayrton has a small problem. He thinks he can't kill himself because he believes in God and I think that is very dangerous for the other drivers.
Ayrton set standards the rest of us can only dream about. His death doesn't seem real. He was invincible and was going to keep on winning.
His loss is impossible to quantify. Everyone who has ever met him, in whatever capacity, feels they have lost something very special.
It's a real waste. He still had a lot of racing and wins left in him. He was a good person. I can tell you that firsthand. Last year (1993), when I had my problems, he was one of the main people there supporting me. He was probably the greatest driver of all time. This was not a driver error. There was no weakness in his driving.
I always had a good relationship with him in our brief encounters. Senna was very good to us. He was very supportive of Michael. In fact, his was one of the first congratulatory messages Michael got after winning in Australia. I don't know what else to say. It comes as a tremendous shock to all of us. It's a devastating loss.
The life of Ayrton Senna was an example in dedication and the love of the sports few athletes have had at international level. The world has lost the greatest athlete in the history of motor racing and I have lost a great friend. Grand Prix racing will never be the same without Ayrton.
I was proud to compete against him. Professionally, he was the only driver I respected. In Senna's honour, I will never sit in a Formula One car again.
When I first came round in the medical center after my accident, the first face I saw was Ayrton's, with tears in his eyes. I had never seen that with Ayrton before. I just had the impression that he felt as if my accident was like one of his own. He helped me a lot with my career and I can't find the words to describe his loss.