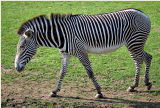 Zebra
Zebras are several species of African equids (horse family) united by their distinctive black and white stripes. Their stripes come in different patterns unique to each individual. They are generally social animals that live in small harems to large herds. Unlike their closest relatives,
horse
Horse
The horse is one of two extant subspecies of Equus ferus, or the wild horse. It is a single-hooved mammal belonging to the taxonomic family Equidae. The horse has evolved over the past 45 to 55 million years from a small multi-toed creature into the large, single-toed animal of today...
s and
asses
Donkey
The donkey or ass, Equus africanus asinus, is a domesticated member of the Equidae or horse family. The wild ancestor of the donkey is the African Wild Ass, E...
, zebras have never been truly domesticated.
There are three species of zebras: the
plains zebra
Plains Zebra
The plains zebra , also known as the common zebra or Burchell's zebra, is the most common and geographically widespread species of zebra. It ranges from the south of Ethiopia through East Africa to as far south as Angola and eastern South Africa...
, the
Grévy's zebra
Grevy's Zebra
The Grévy's zebra , also known as the Imperial zebra, is the largest extant wild equid and one of three species of zebra, the other two being the plains zebra and the mountain zebra. Named after Jules Grévy, it is the sole extant member of the subgenus Dolichohippus. The Grévy's zebra is found in...
and the
mountain zebra
Mountain Zebra
The Mountain Zebra, Equus zebra, is a threatened species of equid native to south-western Angola, Namibia and South Africa. It has two subspecies, the Cape Mountain Zebra and Hartmann's Mountain Zebra , though it has been suggested these should be considered separate species.-Taxonomy:In 2004,...
.