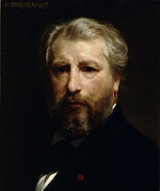 William-Adolphe Bouguereau
William-Adolphe Bouguereau
(November 30, 1825 – August 19, 1905) was a French
academic painter
Academic art
Academic art is a style of painting and sculpture produced under the influence of European academies of art. Specifically, academic art is the art and artists influenced by the standards of the French Académie des Beaux-Arts, which practiced under the movements of Neoclassicism and Romanticism,...
. William Bouguereau (vijɑ̃ buɡəʁo) was a traditionalist; in his realistic genre paintings he used mythological themes, making modern interpretations of
Classical
Classicism
Classicism, in the arts, refers generally to a high regard for classical antiquity, as setting standards for taste which the classicists seek to emulate. The art of classicism typically seeks to be formal and restrained: of the Discobolus Sir Kenneth Clark observed, "if we object to his restraint...
subjects, with an emphasis on the female human body.
William-Adolphe Bouguereau was born in
La Rochelle
La Rochelle
La Rochelle is a city in western France and a seaport on the Bay of Biscay, a part of the Atlantic Ocean. It is the capital of the Charente-Maritime department.The city is connected to the Île de Ré by a bridge completed on 19 May 1988...
, France on November 30, 1825, into a family of wine and olive oil merchants.
One has to seek Beauty and Truth, Sir! As I always say to my pupils, you have to work to the finish. There's only one kind of painting. It is the painting that presents the eye with perfection, the kind of beautiful and impeccable enamel you find in Paolo Veronese|Veronese and Titian. (1895)