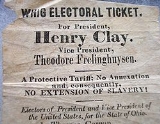 Whig Party (United States)
The
Whig Party
was a
political party
Political party
A political party is a political organization that typically seeks to influence government policy, usually by nominating their own candidates and trying to seat them in political office. Parties participate in electoral campaigns, educational outreach or protest actions...
of the
United States
United States
The United States of America is a federal constitutional republic comprising fifty states and a federal district...
during the era of
Jacksonian democracy
Jacksonian democracy
Jacksonian democracy is the political movement toward greater democracy for the common man typified by American politician Andrew Jackson and his supporters. Jackson's policies followed the era of Jeffersonian democracy which dominated the previous political era. The Democratic-Republican Party of...
. Considered integral to the
Second Party System
Second Party System
The Second Party System is a term of periodization used by historians and political scientists to name the political party system existing in the United States from about 1828 to 1854...
and operating from the early 1830s to the mid-1850s, the party was formed in opposition to the policies of President
Andrew Jackson
Andrew Jackson
Andrew Jackson was the seventh President of the United States . Based in frontier Tennessee, Jackson was a politician and army general who defeated the Creek Indians at the Battle of Horseshoe Bend , and the British at the Battle of New Orleans...
and his Democratic Party. In particular, the Whigs supported the supremacy of Congress over the presidency and favored a program of
modernization
Modernization
In the social sciences, modernization or modernisation refers to a model of an evolutionary transition from a 'pre-modern' or 'traditional' to a 'modern' society. The teleology of modernization is described in social evolutionism theories, existing as a template that has been generally followed by...
and economic protectionism. This name was chosen to echo the
American Whigs
Patriot (American Revolution)
Patriots is a name often used to describe the colonists of the British Thirteen United Colonies who rebelled against British control during the American Revolution. It was their leading figures who, in July 1776, declared the United States of America an independent nation...
of 1776, who fought for independence and because "Whig" was then a widely recognized label of choice for people who identified as opposing tyranny.