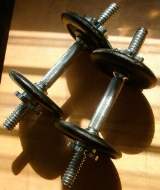 Weight training
Weight training
is a common type of
strength training
Strength training
Strength training is the use of resistance to muscular contraction to build the strength, anaerobic endurance, and size of skeletal muscles. There are many different methods of strength training, the most common being the use of gravity or elastic/hydraulic forces to oppose muscle contraction...
for developing the
strength
Physical strength
Physical strength is the ability of a person or animal to exert force on physical objects using muscles. Increasing physical strength is the goal of strength training.-Overview:...
and size of
skeletal muscle
Skeletal muscle
Skeletal muscle is a form of striated muscle tissue existing under control of the somatic nervous system- i.e. it is voluntarily controlled. It is one of three major muscle types, the others being cardiac and smooth muscle...
s. It uses the weight force of gravity (in the form of weighted bars, dumbbells or weight stacks) to oppose the force generated by muscle through concentric or eccentric contraction. Weight training uses a variety of specialized equipment to target specific muscle groups and types of movement.
Weight training differs from
bodybuilding
Bodybuilding
Bodybuilding is a form of body modification involving intensive muscle hypertrophy. An individual who engages in this activity is referred to as a bodybuilder. In competitive and professional bodybuilding, bodybuilders display their physiques to a panel of judges, who assign points based on their...
, Olympic weightlifting,
powerlifting
Powerlifting
Powerlifting is a strength sport. It resembles the sport of Olympic weightlifting, as both disciplines involve lifting weights in three attempts. Powerlifting evolved from a sport known as 'odd lifts' which followed the same three attempt format but used a wide variety of events akin to Strongman...
, and
strongman
Strongman (strength athlete)
In the 19th century, the term strongman referred to an exhibitor of strength or circus performers of similar ilk who displayed feats of strength such as the bent press , supporting large amounts of...
, which are
sport
Sport
A Sport is all forms of physical activity which, through casual or organised participation, aim to use, maintain or improve physical fitness and provide entertainment to participants. Sport may be competitive, where a winner or winners can be identified by objective means, and may require a degree...
s rather than forms of exercise.