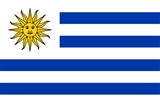 Uruguay
Uruguay
,
officially the
Oriental Republic of Uruguay
,
sometimes the
Eastern Republic of Uruguay
;
reˈpuβlika oɾjenˈtal del uɾuˈɣwai) is a country in the southeastern part of
South America
South America
South America is a continent situated in the Western Hemisphere, mostly in the Southern Hemisphere, with a relatively small portion in the Northern Hemisphere. The continent is also considered a subcontinent of the Americas. It is bordered on the west by the Pacific Ocean and on the north and east...
. It is home to some 3.5 million people, of whom 1.8 million live in the capital
Montevideo
Montevideo
Montevideo is the largest city, the capital, and the chief port of Uruguay. The settlement was established in 1726 by Bruno Mauricio de Zabala, as a strategic move amidst a Spanish-Portuguese dispute over the platine region, and as a counter to the Portuguese colony at Colonia del Sacramento...
and its
metropolitan area
Metropolitan area
The term metropolitan area refers to a region consisting of a densely populated urban core and its less-populated surrounding territories, sharing industry, infrastructure, and housing. A metropolitan area usually encompasses multiple jurisdictions and municipalities: neighborhoods, townships,...
. An estimated 88% of the population are of European descent.
Uruguay's only land border is with
Rio Grande do Sul
Rio Grande do Sul
Rio Grande do Sul is the southernmost state in Brazil, and the state with the fifth highest Human Development Index in the country. In this state is located the southernmost city in the country, Chuí, on the border with Uruguay. In the region of Bento Gonçalves and Caxias do Sul, the largest wine...
,
Brazil
Brazil
Brazil , officially the Federative Republic of Brazil , is the largest country in South America. It is the world's fifth largest country, both by geographical area and by population with over 192 million people...
, to the north.
1807 A British military force, under Brigadier-General Sir Samuel Auchmuty captures the city of Montevideo, then part of the Spanish Empire now the capital of Uruguay.
1811 Battle of Las Piedras: The first great military triumph of the revolution of the Río de la Plata in Uruguay led by Jose Artigas.
1825 Uruguay declares its independence from Brazil.
1828 Uruguay is formally proclaimed independent at preliminary peace talks brokered by Great Britain between Brazil and Argentina during the Argentina-Brazil War.
1865 The Empire of Brazil, Argentina and Uruguay sign the Treaty of the Triple Alliance
1919 Uruguay becomes a signatory to the Buenos Aires copyright treaty.
1967 Uruguay becomes a member of the Berne Convention copyright treaty.
1973 The President of Uruguay dissolves Parliament and heads a coup d'état.
1977 The military-controlled Government of Uruguay announces that it will return the nation to civilian rule through general elections in 1981 for a President and Congress.
1991 Argentina, Brazil, Uruguay and Paraguay sign the Treaty of Asunción, establishing Mercosur, the South Common Market.