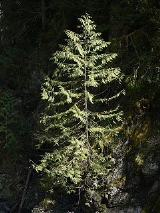 Thuja plicata
Thuja plicata
, commonly called
Western
or
pacific red cedar
,
giant
or
western arborvitae
,
giant cedar
, or
shinglewood
, is a species of
Thuja
Thuja
Thuja is a genus of coniferous trees in the Cupressaceae . There are five species in the genus, two native to North America and three native to eastern Asia...
, an
evergreen
Evergreen
In botany, an evergreen plant is a plant that has leaves in all seasons. This contrasts with deciduous plants, which completely lose their foliage during the winter or dry season.There are many different kinds of evergreen plants, both trees and shrubs...
coniferous
Pinophyta
The conifers, division Pinophyta, also known as division Coniferophyta or Coniferae, are one of 13 or 14 division level taxa within the Kingdom Plantae. Pinophytes are gymnosperms. They are cone-bearing seed plants with vascular tissue; all extant conifers are woody plants, the great majority being...
tree
Tree
A tree is a perennial woody plant. It is most often defined as a woody plant that has many secondary branches supported clear of the ground on a single main stem or trunk with clear apical dominance. A minimum height specification at maturity is cited by some authors, varying from 3 m to...
in the cypress family
Cupressaceae
Cupressaceae
The Cupressaceae or cypress family is a conifer family with worldwide distribution. The family includes 27 to 30 genera , which include the junipers and redwoods, with about 130-140 species in total. They are monoecious, subdioecious or dioecious trees and shrubs from 1-116 m tall...
native to western
North America
North America
North America is a continent wholly within the Northern Hemisphere and almost wholly within the Western Hemisphere. It is also considered a northern subcontinent of the Americas...
. Though commonly called a
cedar
Cedar
Cedrus is a genus of coniferous trees in the plant family Pinaceae. They are native to the mountains of the western Himalaya and the Mediterranean region, occurring at altitudes of 1,500–3,200 m in the Himalaya and 1,000–2,200 m in the Mediterranean.-Description:Cedars are trees up to...
, it does not belong to the scientific family of trees that are classified as "true cedars". It is the Provincial tree of
British Columbia
British Columbia
British Columbia is the westernmost of Canada's provinces and is known for its natural beauty, as reflected in its Latin motto, Splendor sine occasu . Its name was chosen by Queen Victoria in 1858...
, and has extensive applications for the indigenous
First Nations
First Nations
First Nations is a term that collectively refers to various Aboriginal peoples in Canada who are neither Inuit nor Métis. There are currently over 630 recognised First Nations governments or bands spread across Canada, roughly half of which are in the provinces of Ontario and British Columbia. The...
of the
Pacific Northwest
Pacific Northwest
The Pacific Northwest is a region in northwestern North America, bounded by the Pacific Ocean to the west and, loosely, by the Rocky Mountains on the east. Definitions of the region vary and there is no commonly agreed upon boundary, even among Pacific Northwesterners. A common concept of the...
.
Description
It is a large to very large tree, ranging up to 65 – tall and 3 – in trunk diameter, exceptionally even larger. Trees growing in the open may have a crown that reaches the ground, whereas trees densely spaced together will only exhibit a crown at the top, where light can reach the leaves. It is long-lived; some individuals can live well over a thousand years, with the oldest verified being 1,460 years.
The foliage forms flat sprays with scale-like leaves in opposite pairs, with successive pairs at 90° to each other. The foliage sprays are green above, and green marked with whitish stomatal bands below; they are strongly aromatic, with a scent reminiscent of
pineapple
Pineapple
Pineapple is the common name for a tropical plant and its edible fruit, which is actually a multiple fruit consisting of coalesced berries. It was given the name pineapple due to its resemblance to a pine cone. The pineapple is by far the most economically important plant in the Bromeliaceae...
when crushed. The individual leaves are 1–4 mm long and 1–2 mm broad on most foliage sprays, but up to 12 mm long on strong-growing lead shoots.
The
cones
Conifer cone
A cone is an organ on plants in the division Pinophyta that contains the reproductive structures. The familiar woody cone is the female cone, which produces seeds. The male cones, which produce pollen, are usually herbaceous and much less conspicuous even at full maturity...
are slender, 10–18 mm long and 4–5 mm broad, with 8–12 (rarely 14) thin, overlapping scales; they are green to yellow-green, ripening brown in fall about six months after pollination, and open at maturity to shed the seeds. The seeds are 4–5 mm long and 1 mm broad, with a narrow papery wing down each side. The
pollen
Pollen
Pollen is a fine to coarse powder containing the microgametophytes of seed plants, which produce the male gametes . Pollen grains have a hard coat that protects the sperm cells during the process of their movement from the stamens to the pistil of flowering plants or from the male cone to the...
cones are 3–4 mm long, red or purple at first, shedding yellow pollen in spring.
Distribution and habitat
Western Redcedar is native to the northwestern
United States
United States
The United States of America is a federal constitutional republic comprising fifty states and a federal district...
and southwestern
Canada
Canada
Canada is a North American country consisting of ten provinces and three territories. Located in the northern part of the continent, it extends from the Atlantic Ocean in the east to the Pacific Ocean in the west, and northward into the Arctic Ocean...
, from southeastern
Alaska
Alaska
Alaska is the largest state in the United States by area. It is situated in the northwest extremity of the North American continent, with Canada to the east, the Arctic Ocean to the north, and the Pacific Ocean to the west and south, with Russia further west across the Bering Strait...
and
British Columbia
British Columbia
British Columbia is the westernmost of Canada's provinces and is known for its natural beauty, as reflected in its Latin motto, Splendor sine occasu . Its name was chosen by Queen Victoria in 1858...
southeast through Washington and
Oregon
Oregon
Oregon is a state in the Pacific Northwest region of the United States. It is located on the Pacific coast, with Washington to the north, California to the south, Nevada on the southeast and Idaho to the east. The Columbia and Snake rivers delineate much of Oregon's northern and eastern...
to the far northwest of
California
California
California is a state located on the West Coast of the United States. It is by far the most populous U.S. state, and the third-largest by land area...
, primarily in coastal forests but with a disjunct inland population in the southeast of British Columbia, the extreme southwest of
Alberta
Alberta
Alberta is a province of Canada. It had an estimated population of 3.7 million in 2010 making it the most populous of Canada's three prairie provinces...
, northern
Idaho
Idaho
Idaho is a state in the Rocky Mountain area of the United States. The state's largest city and capital is Boise. Residents are called "Idahoans". Idaho was admitted to the Union on July 3, 1890, as the 43rd state....
and westernmost
Montana
Montana
Montana is a state in the Western United States. The western third of Montana contains numerous mountain ranges. Smaller, "island ranges" are found in the central third of the state, for a total of 77 named ranges of the Rocky Mountains. This geographical fact is reflected in the state's name,...
. Pollen analysis and carbon-14 dating indicates postglacial colonization around the lower
Fraser Valley
Fraser Valley
The Fraser Valley is the section of the Fraser River basin in southwestern British Columbia downstream of the Fraser Canyon. The term is sometimes used to refer to the Fraser Canyon and stretches upstream from there, but in general British Columbian usage of the term refers to the stretch of the...
around 6600 years ago. There it prospers and accounted for nearly half the vegetation in the area 500 years ago. Currently, Western Redcedar comprises about twenty percent of the region's forests.
Western Redcedar is among the most widespread trees in the
Pacific Northwest
Pacific Northwest
The Pacific Northwest is a region in northwestern North America, bounded by the Pacific Ocean to the west and, loosely, by the Rocky Mountains on the east. Definitions of the region vary and there is no commonly agreed upon boundary, even among Pacific Northwesterners. A common concept of the...
, and is associated with Douglas-fir and western hemlock in most places where it grows. It is found at the elevation range of
sea level
Sea level
Mean sea level is a measure of the average height of the ocean's surface ; used as a standard in reckoning land elevation...
to a maximum of 2290 m above sea level at
Crater Lake
Crater Lake
Crater Lake is a caldera lake located in the south-central region of the U.S. state of Oregon. It is the main feature of Crater Lake National Park and famous for its deep blue color and water clarity. The lake partly fills a nearly deep caldera that was formed around 7,700 years agoby the...
in Oregon. In addition to growing in lush forests and mountainsides, Western Redcedar is also a
riparian
Riparian zone
A riparian zone or riparian area is the interface between land and a river or stream. Riparian is also the proper nomenclature for one of the fifteen terrestrial biomes of the earth. Plant habitats and communities along the river margins and banks are called riparian vegetation, characterized by...
tree, and grows in many forested
swamp
Swamp
A swamp is a wetland with some flooding of large areas of land by shallow bodies of water. A swamp generally has a large number of hammocks, or dry-land protrusions, covered by aquatic vegetation, or vegetation that tolerates periodical inundation. The two main types of swamp are "true" or swamp...
s and streambanks in its range. The tree is shade-tolerant, and able to reproduce under dense shade.
It has been introduced to other temperate zones, including western
Europe
Europe
Europe is, by convention, one of the world's seven continents. Comprising the westernmost peninsula of Eurasia, Europe is generally 'divided' from Asia to its east by the watershed divides of the Ural and Caucasus Mountains, the Ural River, the Caspian and Black Seas, and the waterways connecting...
,
Australia
Australia
Australia , officially the Commonwealth of Australia, is a country in the Southern Hemisphere comprising the mainland of the Australian continent, the island of Tasmania, and numerous smaller islands in the Indian and Pacific Oceans. It is the world's sixth-largest country by total area...
(at least as far north as
Sydney
Sydney
Sydney is the most populous city in Australia and the state capital of New South Wales. Sydney is located on Australia's south-east coast of the Tasman Sea. As of June 2010, the greater metropolitan area had an approximate population of 4.6 million people...
),
New Zealand
New Zealand
New Zealand is an island country in the south-western Pacific Ocean comprising two main landmasses and numerous smaller islands. The country is situated some east of Australia across the Tasman Sea, and roughly south of the Pacific island nations of New Caledonia, Fiji, and Tonga...
, the eastern United States (at least as far north as
Central New York
Central New York
Central New York is a term used to broadly describe the central region of New York State, roughly including the following counties and cities:...
), and higher elevations of
Hawaii
Hawaii
Hawaii is the newest of the 50 U.S. states , and is the only U.S. state made up entirely of islands. It is the northernmost island group in Polynesia, occupying most of an archipelago in the central Pacific Ocean, southwest of the continental United States, southeast of Japan, and northeast of...
.
The species is
naturalized
Naturalisation (biology)
In biology, naturalisation is any process by which a non-native organism spreads into the wild and its reproduction is sufficient to maintain its population. Such populations are said to be naturalised....
in Britain.
Taxonomy and name
Thuja plicata
is one of two
Thuja
species native to North America, the other being
Thuja occidentalis
Thuja occidentalis
Thuja occidentalis is an evergreen coniferous tree, in the cypress family Cupressaceae, which is widely cultivated for use as an ornamental plant known as American Arbor Vitae. The endemic occurrence of this species is a northeastern distribution in North America...
. The species name
plicata
derives from a Greek word meaning "folded in plaits", a references to the pattern of its small leaves.
Most authorities, both in Canada and the United States cite the English name in two words as western redcedar, or occasionally hyphenated as western red-cedar, to indicate is not a cedar
(Cedrus)
, but it is also confusingly cited as western red cedar in some popular works. In the American
horticultural
Horticulture
Horticulture is the industry and science of plant cultivation including the process of preparing soil for the planting of seeds, tubers, or cuttings. Horticulturists work and conduct research in the disciplines of plant propagation and cultivation, crop production, plant breeding and genetic...
trade, it is also known as the giant arborvitae, by comparison with arborvitae for its close relative
Thuja occidentalis
Thuja occidentalis
Thuja occidentalis is an evergreen coniferous tree, in the cypress family Cupressaceae, which is widely cultivated for use as an ornamental plant known as American Arbor Vitae. The endemic occurrence of this species is a northeastern distribution in North America...
. Other names include giant redcedar, Pacific redcedar, shinglewood, British Columbia cedar, canoe cedar, and red cedar.
Arborvitae
comes from the
Latin
Latin
Latin is an Italic language originally spoken in Latium and Ancient Rome. It, along with most European languages, is a descendant of the ancient Proto-Indo-European language. Although it is considered a dead language, a number of scholars and members of the Christian clergy speak it fluently, and...
for "tree of life"; coincidentally, native Americans of the West coast also address the species as "long life maker".
Notable specimens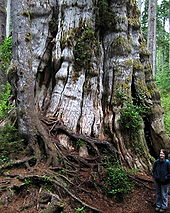 The "Quinault Lake Redcedar" is the largest known specimen in the world with a wood volume of 500 cubic metres (17,657.3 cu ft). It is located near the northwest shore of
Lake Quinault
Lake Quinault
Lake Quinault is a lake on the Olympic Peninsula in western Washington state, USA. It is located in the glacial-carved Quinault Valley of the Quinault River, at the southern edge of Olympic National Park in the northwestern United States...
north of
Aberdeen, Washington
Aberdeen, Washington
Aberdeen is a city in Grays Harbor County, Washington, United States, founded by Samuel Benn in 1884. Aberdeen was incorporated on May 12, 1890. The city is the economic center of Grays Harbor County, bordering the cities of Hoquiam and Cosmopolis...
, about 34 km from the Pacific Ocean, it is 55 m tall with a diameter of 6.04 m By way of comparison, the largest known tree, a
Giant Sequoia
Sequoiadendron
Sequoiadendron giganteum is the sole living species in the genus Sequoiadendron, and one of three species of coniferous trees known as redwoods, classified in the family Cupressaceae in the subfamily Sequoioideae, together with Sequoia sempervirens and...
named "
General Sherman
General Sherman (tree)
The General Sherman is a giant sequoia tree located in the Giant Forest of Sequoia National Park in Tulare County, California. By volume, it is the largest known living single stem tree on Earth...
", has a volume of 1480 cubic metres (52,265.7 cu ft).
The second largest is the Cheewhat Lake Cedar, in the West Coast Vancouver Island-Pacific Rim National Park, at 449 cubic meters, and then the Kalaloch Cedar in the
Olympic National Park
Olympic National Park
Olympic National Park is located in the U.S. state of Washington, in the Olympic Peninsula. The park can be divided into four basic regions: the Pacific coastline, alpine areas, the west side temperate rainforest and the forests of the drier east side. U.S...
, at 350 cubic meters.
A redcedar over 71m tall, 4.5m in diameter and over 700 years old stood in Cathedral Grove on
Vancouver Island
Vancouver Island
Vancouver Island is a large island in British Columbia, Canada. It is one of several North American locations named after George Vancouver, the British Royal Navy officer who explored the Pacific Northwest coast of North America between 1791 and 1794...
,
British Columbia
British Columbia
British Columbia is the westernmost of Canada's provinces and is known for its natural beauty, as reflected in its Latin motto, Splendor sine occasu . Its name was chosen by Queen Victoria in 1858...
, before it was set on fire and destroyed by vandals in 1972. That tree now lies in "Giant's Grave", a self dug grave created by the force of its own impact.
A giant stump of a Western Redcedar tree is on display outside of the Tree House exhibit at the Jardin botanique de Montréal in Quebec, Canada. Visitors are welcome to pose next to it for dramatic photographs showing the tree's giant scale.
Uses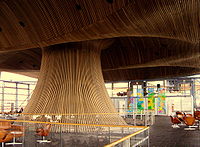 The soft red-brown timber has a tight, straight grain and few knots. It is valued for its distinct appearance, aroma, and its high natural resistance to decay, being extensively used for outdoor construction in the form of posts, decking,
shingles
Shake (shingle)
A shake is a basic wooden shingle that is made from split logs. Shakes have traditionally been used for roofing and siding applications around the world. Higher grade shakes are typically used for roofing purposes, while the lower grades are used for siding purposes...
and siding. It is also widely used throughout Europe and America for making
beehive
Beehive
A beehive is a structure in which bees live and raise their young.Beehive may also refer to:Buildings and locations:* Bee Hive, Alabama, a neighborhood in Alabama* Beehive , a wing of the New Zealand Parliament Buildings...
s. It is cultivated as an ornamental tree, to a limited extent in
forestry
Forestry
Forestry is the interdisciplinary profession embracing the science, art, and craft of creating, managing, using, and conserving forests and associated resources in a sustainable manner to meet desired goals, needs, and values for human benefit. Forestry is practiced in plantations and natural stands...
plantation
Plantation
A plantation is a long artificially established forest, farm or estate, where crops are grown for sale, often in distant markets rather than for local on-site consumption...
s and for screens and
hedge
Hedge (gardening)
A hedge or hedgerow is a line of closely spaced shrubs and tree species, planted and trained in such a way as to form a barrier or to mark the boundary of an area. Hedges used to separate a road from adjoining fields or one field from another, and of sufficient age to incorporate larger trees, are...
s. It is also used to line closets and chests, for its pungent aromatic oils are believed to discourage moth and carpet beetle larvae, which can damage cloth by eating wool and similar fibres. This is more effective in a properly constructed
redcedar chest
(sometimes made entirely of redcedar), since the oils are confined by shellac and leather seals. A well-sealed redcedar chest will retain its pungent odour for many decades, sometimes for over a century. Its light weight, strength and dark warm sound make it a popular choice for
guitar
Guitar
The guitar is a plucked string instrument, usually played with fingers or a pick. The guitar consists of a body with a rigid neck to which the strings, generally six in number, are attached. Guitars are traditionally constructed of various woods and strung with animal gut or, more recently, with...
soundboards.
Thujaplicin
Thujaplicin
Thujaplicins are series of related chemical substances discovered in the 1930s and isolated from Thuja plicata . The three compounds are α-thujaplicin, β-thujaplicin , and γ-thujaplicin. They are known for potent anti-fungal and anti-bacterial properties...
, a chemical substance, is found in mature trees and serves as a natural
fungicide
Fungicide
Fungicides are chemical compounds or biological organisms used to kill or inhibit fungi or fungal spores. Fungi can cause serious damage in agriculture, resulting in critical losses of yield, quality and profit. Fungicides are used both in agriculture and to fight fungal infections in animals...
, thereby preventing the wood from rotting. This effect lasts around a century even after the tree is felled. However, thujaplicin is only found in older trees, and saplings that do not produce the chemical often rot at an early stage, causing some trees to grow with a somewhat hollow, rotten trunk.
Role in indigenous societies
Western Redcedar has an extensive history of use by the
indigenous peoples of the Pacific Northwest Coast
Indigenous peoples of the Pacific Northwest Coast
The Indigenous peoples of the Pacific Northwest Coast are the pre-Columbian inhabitants of the Pacific Northwest Coast, their descendants, and many ethnic groups who identify with those historical peoples. They are now situated within the Canadian Province of British Columbia and the U.S...
, from Oregon to southeast Alaska. Some northwest coast tribes refer to themselves as "people of the redcedar" because of their extensive dependence on the tree for basic materials. The wood has been used for constructing housing,
totem pole
Totem pole
Totem poles are monumental sculptures carved from large trees, mostly Western Red Cedar, by cultures of the indigenous peoples of the Pacific Northwest Coast of North America...
s, and crafted into many objects, including masks, utensils, boxes, boards, instruments, canoes, vessels, and ceremonial objects. Roots and bark were used for baskets, ropes, clothing, blankets and rings.
History
A huge number of archeological finds point to the continuous use of redcedar wood in native societies. Woodworking tools dating between 5000–8000 years ago, such as carved antlers, were discovered in shell middens at the Glenrose site, near
Vancouver
Vancouver
Vancouver is a coastal seaport city on the mainland of British Columbia, Canada. It is the hub of Greater Vancouver, which, with over 2.3 million residents, is the third most populous metropolitan area in the country,...
, British Columbia. In
Yuquot
Yuquot, British Columbia
Yuquot or Friendly Cove is a small settlement of less than 25 on Nootka Island in Nootka Sound, just west of Vancouver Island, British Columbia, Canada...
, on the west coast of Vancouver, tools dating 3000–4000 years old have been found. The Musqueam site, also near Vancouver, yielded bark baskets woven in five different styles, along with ropes and ships dated to 3000 years ago. At
Pitt River
Pitt River
The Pitt River in British Columbia, Canada is a large tributary of the Fraser River, entering it a few miles upstream from New Westminster and about 25 km ESE of Downtown Vancouver. The river, which begins in the Garibaldi Ranges of the Coast Mountains, is in two sections above and below Pitt...
,
adze
Adze
An adze is a tool used for smoothing or carving rough-cut wood in hand woodworking. Generally, the user stands astride a board or log and swings the adze downwards towards his feet, chipping off pieces of wood, moving backwards as they go and leaving a relatively smooth surface behind...
s and baskets were dated around 2900 years ago. 1000 year old wooden artifacts were unearthed on the east coast of
Vancouver Island
Vancouver Island
Vancouver Island is a large island in British Columbia, Canada. It is one of several North American locations named after George Vancouver, the British Royal Navy officer who explored the Pacific Northwest coast of North America between 1791 and 1794...
.
A legend amongst the
Coast Salish
Coast Salish
Coast Salish languages are a subgroup of the Salishan language family. These languages are spoken by First Nations or Native American peoples inhabiting the territory that is now the southwest coast of British Columbia around the Strait of Georgia and Washington state around Puget Sound...
peoples describes the origins of the Western Redcedar. In this legend, there was a generous man who gave the people whatever they needed. When the
Great Spirit
Great Spirit
The Great Spirit, also called Wakan Tanka among the Sioux, the Creator or the Great Maker in English, and Gitchi Manitou in Algonquian, is a conception of a supreme being prevalent among some Native American and First Nations cultures...
saw this, he declared that when the generous man died, a great redcedar tree will grow where he is buried, and that the cedar will be useful to all the people; providing its roots for baskets, bark for clothing, and wood for shelter.
Tools
The wood was worked primarily with the
adze
Adze
An adze is a tool used for smoothing or carving rough-cut wood in hand woodworking. Generally, the user stands astride a board or log and swings the adze downwards towards his feet, chipping off pieces of wood, moving backwards as they go and leaving a relatively smooth surface behind...
, which was preferred over all other tools, even ones introduced by European settlers. Alexander Walker, an ensign on the fur trade ship
Captain Cook
reported that the indigenous peoples used an elbow adze, which they valued over new tools brought by the Europeans, such as the
saw
Saw
A saw is a tool that uses a hard blade or wire with an abrasive edge to cut through softer materials. The cutting edge of a saw is either a serrated blade or an abrasive...
or the
axe
Axe
The axe, or ax, is an implement that has been used for millennia to shape, split and cut wood; to harvest timber; as a weapon; and as a ceremonial or heraldic symbol...
, going so far as to modify traded tools back into an adze. Tools were generally made from stone, bone,
obsidian
Obsidian
Obsidian is a naturally occurring volcanic glass formed as an extrusive igneous rock.It is produced when felsic lava extruded from a volcano cools rapidly with minimum crystal growth...
, or a harder wood such as
hemlock
Tsuga
Tsuga is a genus of conifers in the family Pinaceae. The common name hemlock is derived from a perceived similarity in the smell of its crushed foliage to that of the unrelated plant poison hemlock....
. A variety of hand
maul
Maul
A splitting maul also known as a block buster, or block splitter is a heavy, long-handled hammer used for splitting a piece of wood along its grain. One side of its head is like a sledgehammer, and the other side is like an axe.- Wedged mauls :...
s, wedges, chisels and knives were used. Excavations done at Ozette in
Washington state
Washington State
Washington State may refer to:* Washington , often referred to as "Washington state" to differentiate it from Washington, D.C., the capital of the United States* Washington State University, a land-grant college in that state- See also :...
turned up iron tools nearly 800 years old, far before European contact. When
James Cook
James Cook
Captain James Cook, FRS, RN was a British explorer, navigator and cartographer who ultimately rose to the rank of captain in the Royal Navy...
passed the area, he observed that almost all tools were made of iron. There has been speculation on the origin of these iron tools, some theories include shipwrecks from
East Asia
East Asia
East Asia or Eastern Asia is a subregion of Asia that can be defined in either geographical or cultural terms...
, or possible contact with iron-using cultures from
Siberia
Siberia
Siberia is an extensive region constituting almost all of Northern Asia. Comprising the central and eastern portion of the Russian Federation, it was part of the Soviet Union from its beginning, as its predecessor states, the Tsardom of Russia and the Russian Empire, conquered it during the 16th...
, as hinted in the more advanced woodworking found in northern tribes such as the Tlingit.
Wood
Harvesting redcedars required some ceremony, and included propitiation of the tree's spirits as well as those of the surrounding trees. In particular, many people specifically requested the tree and its brethren not to fall or drop heavy branches on the harvester, a situation which is mentioned in a number of different stories of people who were not sufficiently careful. Some professional loggers of Native American descent have mentioned that they offer quiet or silent propitiations to trees which they fell, following in this tradition.
Felling of large trees such as redcedar before the introduction of steel tools was a complex and time-consuming art. Typically the bark was removed around the base of the tree above the buttresses, and then some amount of cutting and splitting with stone adzes and mauls would be done, creating a wide triangular cut. The area above and below the cut would be covered with a mixture of wet moss and clay as a firebreak, and then the cut would be packed with tinder and small kindling and slowly burned. The process of cutting and burning would alternate until the tree was mostly penetrated through, and then careful tending of the fire would fell the tree in the best direction for handling. This process could take many days, and constant rotation of workers was involved to keep the fires burning through night and day, often in a remote and forbidding location.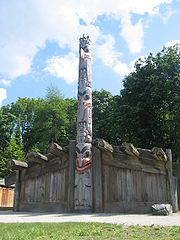 Once the tree was felled the work had only just begun, as it then had to be stripped and dragged down to shore. If the tree was to become canoes then it would often be divided into sections and worked into rough canoe shapes before transport, but if it were to be used for a totem pole or building materials it would be towed in the round to the village. Many trees are still felled in this traditional manner for use as totem poles and canoes, particularly by artists who feel that using modern tools is detrimental to the traditional spirit of the art. Non-traditionalists simply buy redcedar logs or lumber at mills or lumber yards, a practice that is commonly followed by most working in smaller sizes such as for masks and staves.
Because felling required such an extraordinary amount of work, if only planks for housing were needed, these would be split from the living tree. The bark was stripped and saved, and two cuts were made at the ends of the planking. Then wedges would be pounded in along the sides and the planks slowly split off the side of the tree. Trees which have been so harvested are still visible in some places in the rainforest, with obvious chunks taken off of their sides. Such trees usually continue to grow perfectly well, since redcedar wood is resistant to decay. Planks are straightened by a variety of methods, including weighing them down with stones, lashing them together with rope, or forcing them between a line of stakes.
Redcedar wood is used to make huge monoxyla
canoe
Canoe
A canoe or Canadian canoe is a small narrow boat, typically human-powered, though it may also be powered by sails or small electric or gas motors. Canoes are usually pointed at both bow and stern and are normally open on top, but can be decked over A canoe (North American English) or Canadian...
s in which the men went out to high sea to harpoon
whale
Whale
Whale is the common name for various marine mammals of the order Cetacea. The term whale sometimes refers to all cetaceans, but more often it excludes dolphins and porpoises, which belong to suborder Odontoceti . This suborder also includes the sperm whale, killer whale, pilot whale, and beluga...
s and conduct trade. One of those canoes (a 38 feet craft dug out about a century ago), was bought in 1901 by Captain
John Voss
John Voss
John Claus Voss was a Canadian sailor best known for sailing around the world in a modified dug-out canoe he named Tilikum . He started in 1901 with his friend Norman Luxton and ending alone in 1904...
, an adventurer. He gave her the name of
Tilikum
Tilikum (boat)
The Tilikum was a dugout canoe that was used in an effort to circumnavigate the globe starting in 1901. The boat was a "Nootkan" canoe which was already old when it was obtained by captain John Voss in April 1901. The boat was built in the early 19th century as a dugout canoe made from a large...
("Friend" in Chinook jargon), rigged her, and led her in a three years hectic voyage from British Columbia to
London
London
London is the capital city of :England and the :United Kingdom, the largest metropolitan area in the United Kingdom, and the largest urban zone in the European Union by most measures. Located on the River Thames, London has been a major settlement for two millennia, its history going back to its...
.
Redcedar branches are very flexible and have good tensile strength. They were stripped and used as strong cords for
fishing
Fishing
Fishing is the activity of trying to catch wild fish. Fish are normally caught in the wild. Techniques for catching fish include hand gathering, spearing, netting, angling and trapping....
line, rope cores, twine, and other purposes where bark cord was not strong enough or might fray. Both the branches and bark rope have been replaced by modern fiber and nylon cordage among the aboriginal northwest coast peoples, though the bark is still in use for the other purposes mentioned above.
Bark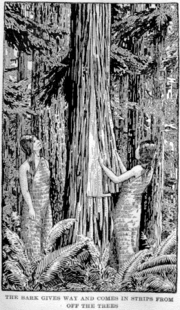 The
bark
Bark
Bark is the outermost layers of stems and roots of woody plants. Plants with bark include trees, woody vines and shrubs. Bark refers to all the tissues outside of the vascular cambium and is a nontechnical term. It overlays the wood and consists of the inner bark and the outer bark. The inner...
is easily removed from live trees in long strips, and is harvested for use in making mats,
rope
Rope
A rope is a length of fibres, twisted or braided together to improve strength for pulling and connecting. It has tensile strength but is too flexible to provide compressive strength...
and cordage,
basket
Basket
A basket is a container which is traditionally constructed from stiff fibres, which can be made from a range of materials, including wood splints, runners, and cane. While most baskets are made from plant materials, other materials such as horsehair, baleen, or metal wire can be used. Baskets are...
ry, rain hats,
clothing
Clothing
Clothing refers to any covering for the human body that is worn. The wearing of clothing is exclusively a human characteristic and is a feature of nearly all human societies...
, and other soft goods. The harvesting of bark must be done with care because if the tree is completely stripped it will die. To prevent this, the harvester usually only harvests from trees which have not been stripped before. After harvesting the tree is not used for bark again, although it may later be felled for wood. Stripping bark is usually started with a series of cuts at the base of the tree above any buttresses, and the bark is peeled upwards. To remove bark high up, a pair of platforms strung on rope around the tree are used, and the harvester climbs by alternating between them for support. Since redcedars lose their lower branches as all tall trees do in the rainforest, the harvester may climb 10 m or more into the tree by this method. The harvested bark is folded and carried in backpacks. It can be stored for quite some time as mold does not grow on it, and is moistened before unfolding and working. It is then split lengthwise into the required width and woven or twisted into shape. Bark harvesting was mostly done by women, despite the danger of climbing 10 m in the air, because they were the primary makers of bark goods. Today bark rope making is a lost art in many communities, although it is still practiced for decoration or art in a few places. Other uses of bark are still common for artistic or practical purposes.