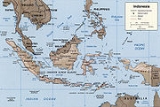 Sunda Islands
The
Sunda Islands
are a group of
island
Island
An island or isle is any piece of sub-continental land that is surrounded by water. Very small islands such as emergent land features on atolls can be called islets, cays or keys. An island in a river or lake may be called an eyot , or holm...
s that form part of the
Malay archipelago
Malay Archipelago
The Malay Archipelago refers to the archipelago between mainland Southeastern Asia and Australia. The name was derived from the anachronistic concept of a Malay race....
.
They are further divided into the
Greater Sunda Islands
Greater Sunda Islands
The Greater Sunda Islands are a group of large islands within the Malay archipelago. Jawa , smallest but by far the most populous and important; Sumatera in the west, directly across the Strait of Malacca from Malaysia; Kalimantan, the Indonesian sector of large, compact, minicontinent Borneo; and...
and the
Lesser Sunda Islands
Lesser Sunda Islands
The Lesser Sunda Islands or Nusa Tenggara are a group of islands in the southern Maritime Southeast Asia, north of Australia. Together with the Greater Sunda Islands to the west they make up the Sunda Islands...
.
Administration
The islands are divided up between four countries,
Brunei
Brunei
Brunei , officially the State of Brunei Darussalam or the Nation of Brunei, the Abode of Peace , is a sovereign state located on the north coast of the island of Borneo, in Southeast Asia...
,
East Timor
East Timor
The Democratic Republic of Timor-Leste, commonly known as East Timor , is a state in Southeast Asia. It comprises the eastern half of the island of Timor, the nearby islands of Atauro and Jaco, and Oecusse, an exclave on the northwestern side of the island, within Indonesian West Timor...
,
Indonesia
Indonesia
Indonesia , officially the Republic of Indonesia , is a country in Southeast Asia and Oceania. Indonesia is an archipelago comprising approximately 13,000 islands. It has 33 provinces with over 238 million people, and is the world's fourth most populous country. Indonesia is a republic, with an...
, and
Malaysia
. Much of the islands are the territory of Indonesia. The island of
Borneo
Borneo
Borneo is the third largest island in the world and is located north of Java Island, Indonesia, at the geographic centre of Maritime Southeast Asia....
is divided up between Brunei, Indonesia, and Malaysia. The island of Timor is divided between East Timor and Indonesia. Two small islands also belong to East Timor.
List of Islands
Greater Sunda Islands

Greater Sunda Islands

The Greater Sunda Islands are a group of large islands within the Malay archipelago. Jawa , smallest but by far the most populous and important; Sumatera in the west, directly across the Strait of Malacca from Malaysia; Kalimantan, the Indonesian sector of large, compact, minicontinent Borneo; and...




Borneo

Borneo

Borneo is the third largest island in the world and is located north of Java Island, Indonesia, at the geographic centre of Maritime Southeast Asia....



Java
Sumatra

Sumatra

Sumatra is an island in western Indonesia, westernmost of the Sunda Islands. It is the largest island entirely in Indonesia , and the sixth largest island in the world at 473,481 km2 with a population of 50,365,538...



Sulawesi

Sulawesi

Sulawesi is one of the four larger Sunda Islands of Indonesia and is situated between Borneo and the Maluku Islands. In Indonesia, only Sumatra, Borneo, and Papua are larger in territory, and only Java and Sumatra have larger Indonesian populations.- Etymology :The Portuguese were the first to...




Lesser Sunda Islands

Lesser Sunda Islands

The Lesser Sunda Islands or Nusa Tenggara are a group of islands in the southern Maritime Southeast Asia, north of Australia. Together with the Greater Sunda Islands to the west they make up the Sunda Islands...


, from west to east
External links