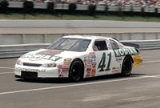 Steve Grissom
Steve Grissom
is a
NASCAR
NASCAR
The National Association for Stock Car Auto Racing is a family-owned and -operated business venture that sanctions and governs multiple auto racing sports events. It was founded by Bill France Sr. in 1947–48. As of 2009, the CEO for the company is Brian France, grandson of the late Bill France Sr...
driver. Grissom was the 1993
Busch Series
Busch Series
The NASCAR Nationwide Series is a stock car racing series owned and operated by the National Association of Stock Car Auto Racing. It is promoted as NASCAR's "minor league" circuit, and is a proving ground for drivers who wish to step up to the organization's "big leagues"; the Sprint Cup circuit...
champion and has eleven Busch wins in 185 starts. He turned down a scholarship to play quarterback at the
University of Alabama
University of Alabama
The University of Alabama is a public coeducational university located in Tuscaloosa, Alabama, United States....
to focus a career on racing.
Early years
Grissom began his racing career as a youth, working on cars with his father Wayne, who was a sponsor of short track drivers in their homestate of Alabama. He soon began racing cars himself, balancing that with being captain of his high school football and basketball teams in 1981. He eventually joined the Winston All-Pro Series, and won the championship in 1985. The next season, he was nominated for Alabama Pro Athlete of the Year.
Busch Championship
Grissom made his Busch Series debut in 1986 at the Freedlander 200, in the #31
Oldsmobile
Oldsmobile
Oldsmobile was a brand of American automobile produced for most of its existence by General Motors. It was founded by Ransom E. Olds in 1897. In its 107-year history, it produced 35.2 million cars, including at least 14 million built at its Lansing, Michigan factory...
owned by his father. He started 16th but finished 30th due to engine failure. He ran three more races over the next two years, his best finish being an 11th. In 1988, he moved into the series full-time. Despite a lack of major sponsorship, Grissom had four top-tens and finished 13th in points. In 1989, he landed funding from Texas Pete Sauces, and moved to twelfth in points.
In 1990, Grissom won four races, including two straight, and finished third in points behind
Chuck Bown
Chuck Bown
Richard Charles Bown, Jr. is a former NASCAR champion. His last ride came in 1999. He currently lives with his wife in Asheboro, North Carolina. He is the brother of former fellow NASCAR competitor Jim Bown...
and
Jimmy Hensley
Jimmy Hensley
Jimmy Hensley is a former NASCAR driver. With a career spanning 27 seasons in all three of NASCAR's elite divisions, Hensley may be best remembered for his Rookie of the Year award won in 1992, his 15th season in the series, and for his nine career Busch Series wins. He spent most of his career...
. During the season, Grissom ran one Winston Cup race for Dick Moroso at the Atlanta Journal 500, starting 23rd and finishing 24th. A lack of funding kept Grissom from competing for the championship in 1991, as he had one win and slid back to tenth in points. After
Channellock
Channellock
Channellock is an American company that produces hand tools. It is best known for its pliers—the company manufactures more than 120 types of pliers—particularly its eponymous style of tongue-and-groove, slip-joint pliers...
came on board in 1992, Grissom regained his success of 1990, winning two races. He clinched the Busch Series championship in 1993 for his family-owned team. Grissom won the championship by 253 points over
Ricky Craven
Ricky Craven
Richard Allen Craven is an ESPN broadcaster who works ESPN2's NASCAR Now and a race analyst for the network. Prior to his ESPN duties, he was a NASCAR driver who won in four different series—the K&N Pro Series, and the three national series. He occasionally served as a pit reporter when NASCAR...
.
Winston Cup
In 1993, Grissom ran an additional Cup race for
Diamond Ridge Motorsports
Diamond Ridge Motorsports
Pastrana-Waltrip Racing is a NASCAR Nationwide Series team that competed in the Winston Cup and Busch Series from 1990 to 1999, and revived as a Nationwide Series team in 2010. The original Diamond Ridge team was owned and operated by Gary Bechtel...
at
New Hampshire International Speedway
New Hampshire International Speedway
New Hampshire Motor Speedway is a oval speedway located in Loudon, New Hampshire which has hosted NASCAR racing annually since the early 1990s, as well as an IndyCar weekend and the oldest motorcycle race in North America, the Loudon Classic...
, finishing 29th. Grissom signed with Diamond Ridge to compete for
Rookie of the Year
NASCAR Rookie of the Year
The NASCAR Rookie of the Year Award is presented to the first-year driver that has the best season in a NASCAR season. Each of NASCAR's national and regional touring series selects a RotY winner each year....
honors in 1994. Despite struggles in qualifying, Grissom had three top-tens and was narrowly defeated by
Jeff Burton
Jeff Burton
Jeffrey Brian "Jeff" Burton , also referred to as JB or The Mayor, is a NASCAR Sprint Cup Series driver who drives the #31 Caterpillar Chevrolet Impala for Richard Childress Racing. Burton is the younger brother of Ward Burton, who is a former Sprint Cup driver...
for Rookie of the Year. Diamond Ridge also bought Grissom's Busch Series operation, and running a part-time schedule Grissom won twice and finished 26th in points in 1995. Grissom had four top-tens in the 1995 Cup season, finishing 27th in points; he started the season running in the top-10 points early on in the year. Grissom started 1996 off on a high note, winning the season-opening Busch Series race driving the WCW car, but he was released from Diamond Ridge after the
Miller 400
Miller 400
At one time, two different NASCAR races were known as the Miller 400:* For the race at Michigan International Speedway in 1985, 1996 and 1997, see 3M Performance 400* For the race at Richmond International Raceway in 1996, see Chevy Rock and Roll 400...
race midway through the season.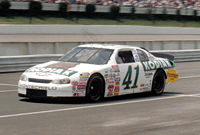 For 1997, Grissom signed on with
Larry Hedrick Motorsports
Larry Hedrick Motorsports
Larry Hedrick Motorsports is a former NASCAR team. It was owned by businessman Larry Hedrick and always fielded the #41 Chevrolet in both the Winston Cup and the Busch Series. The team ran from 1990 until its closure in 2001.- Beginnings :...
. Grissom started the year winning the outside pole for the
Daytona 500
Daytona 500
The Daytona 500 is a -long NASCAR Sprint Cup Series race held annually at the Daytona International Speedway in Daytona Beach, Florida. It is one of four restrictor plate races on the Cup schedule....
. As the season progressed, he finished in the top-ten six times and finished a career-high 21st in points. After he struggled throughout the 1998 season, he was released from his ride and ended the season driving the #96 for American Equipment Racing. After American Equipment closed its doors, Grissom started the 1999 season with LJ Racing in a four-race deal. After his contract was not renewed, he spent the season doing fill-in duty for Carroll Racing,
Travis Carter Motorsports
Travis Carter Motorsports
Haas-Carter Motorsports is a former NASCAR and USAR Pro Cup team. It was mostly owned by former crew chief Travis Carter and Carl Haas. The team previously fielded entries in the Winston Cup Series before closing...
, and Hensley Motorsports, among others.
In 2000, Grissom was hired by
Petty Enterprises
Petty Enterprises
Petty Enterprises was a NASCAR racing team based in Randleman, North Carolina, USA. The team was owned by Richard Petty, his son Kyle Petty, and Boston Ventures. At the time of its folding the team operated the #43 and #45 Dodge Chargers in the NASCAR Sprint Cup Series. Petty Enterprises ran from...
to drive their #43
Dodge Ram
Dodge Ram
The Dodge Ram is a full-size pickup truck manufactured by the Chrysler Group LLC. As of late 2010, it has been sold under the Ram Trucks brand. Previously, Ram was part of the Dodge lineup of light trucks...
in the
Craftsman Truck Series
Craftsman Truck Series
The NASCAR Camping World Truck Series is a pickup truck racing series owned and operated by the National Association for Stock Car Auto Racing...
. This year was best known as when
Tony Roper
Tony Roper
Anthony Dean "Tony" Roper was a NASCAR driver. He was born in Springfield, Missouri, to Dean Roper and Shirley Medley. Growing up his family was heavily involved in auto racing. Roper started racing in 1986. For the next six years Tony raced in IMCA Modifieds and late models on Midwest dirt and...
turned into Grissom's bumper and hit the wall head-on at
Texas Motor Speedway
Texas Motor Speedway
Texas Motor Speedway is a speedway located in the northernmost portion of the U.S. city of Fort Worth, Texas – the portion located in Denton County, Texas....
, then hitting Roper's truck as it slid down the track. Roper died of injuries he sustained from the crash the next morning. While he did not visit victory lane, Grissom finished in the top-five six times and finished tenth in points. He also ran in the Cup series, filling in for
Kyle Petty
Kyle Petty
Kyle Eugene Petty is a former American NASCAR driver and is currently a co-host for NASCAR RaceDay and panel member for NASCAR Smarts which are both on SPEED. He also commentates for TNT in the summer. He is the son of racer Richard Petty, grandson of racer Lee Petty, and father of the late Adam...
in the #44
Hot Wheels
Hot Wheels
Hot Wheels is a brand of die cast toy car, introduced by American toymaker Mattel in 1968. It was the primary competitor of Matchbox until 1996, when Mattel acquired rights to the Matchbox brand from Tyco.-Models:...
Pontiac Grand Prix
Pontiac Grand Prix
Picking up where the Pontiac Ventura model left off, the Grand Prix first appeared in the Pontiac line for 1962. It was essentially a standard Pontiac Catalina coupe with minimal outside chrome trim and a sportier interior...
. After spending virtually all of 2001 on the sidelines, he was called back to Petty in 2002 to replace
Buckshot Jones
Buckshot Jones
Roy "Buckshot" Jones , is an auto racing driver who has competed in NASCAR and sprint cars. He most recently ran in the USAR Hooters Pro Cup Series....
in the #44. In ten starts, he posted one top-ten at
Richmond International Raceway
Richmond International Raceway
Richmond International Raceway is a 3/4-mile , D-shaped, asphalt race track located just outside Richmond, Virginia in Henrico County. It hosts the NASCAR Sprint Cup Series and Nationwide Series...
. He has not run a Cup race since. That season, Grissom ran seven Nationwide Series races for
Frank Cicci Racing
Frank Cicci Racing
Frank Cicci Racing was a NASCAR Busch Series team. The team was owned by Frank Cicci of Elmira, New York and was last driven by Jay Sauter.- Beginnings :FCR first began racing as a short track team in Upstate New York...
, then spent 2003 at DCT Motorsports. After being released from DCT midway through 2004, he finished the year at
GIC-Mixon Motorsports
GIC-Mixon Motorsports
GIC-Mixon Motorsports was a NASCAR team, owners of the #7 and the #24 Chevrolets in the NASCAR Busch Series. At the end of 2005, they began to run a part-time schedule. As they did not run in 2006, it is presumed that this team has sold off its equipment.....
. He finished 28th in points that season.
Presently
In 2005, Grissom joined with
Jay Robinson Racing
Jay Robinson Racing
Jay Robinson Racing is a racing team that competes in the NASCAR Nationwide Series. Currently, they field the #28 MAXelence Chevrolet Impala for Derrike Cope. Formed in 1995, they moved to the Nationwide Series in 2000, where they have attempted both full-time and part-time schedules.- Car #28...
to drive the #49
Advil
Advil
Advil is a brand of ibuprofen, a nonsteroidal anti-inflammatory drug . Advil is manufactured by Pfizer and has been on the market since 1984.-History:...
Ford Taurus
Ford Taurus
The Ford Taurus is an automobile manufactured by the Ford Motor Company in the United States. Originally introduced in the 1986 model year, it has remained in near-continuous production for more than two decades, making it the fourth oldest nameplate that is currently sold in the North American...
. Despite not finishing in the top-ten Grissom was able to land a 23rd place finish in points. Unfortunately, he and his team came under controversy due to their tendency to qualify for races on the "Past Champion's Provisional", a starting spot set aside for past champions in the Busch Series who fail to qualify on time. Grissom ran two races for Robinson on a part-time basis in 2006, and drove the season opening races in 2007 and 2008, for Cicci Racing and
MSRP Motorsports
MSRP Motorsports
HP Racing, formerly named MSRP Motorsports and later Prism Motorsports, is a NASCAR team competing in the Sprint Cup Series and the Nationwide Series. It is owned by former NASCAR driver Phil Parsons and Randy Humphrey, along with their wives Stacey and Marcia...
respectively. In 2009, he drove for Davis Motorsports in the #0 Chevy at Bristol.
Grissom is helping his son Kyle with his racing career. Kyle recently made his debut in the
ARCA RE/MAX Series
ARCA RE/MAX Series
-History:The series started as a local touring group. Led by John Marcum, the Midwest Association for Race Cars was formed with drivers like Iggy Katona and Nelson Stacy being early drivers.The series became a part of the Daytona Speedweeks in 1964...
at Rockingham, finishing 33rd in a
Richard Childress Racing
Richard Childress Racing
RCR Enterprises, LLC, doing business as Richard Childress Racing, is a NASCAR team based in Welcome, North Carolina, and is owned and operated by former driver Richard Childress...
-backed entry.
Steve is currently the owner of Celebrity HotDogs in Concord, NC.
http://www.celebrityshotdogsconcord.com/