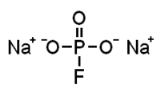 Sodium monofluorophosphate
Sodium monofluorophosphate
, commonly abbreviated MFP, is the
inorganic compound
Inorganic compound
Inorganic compounds have traditionally been considered to be of inanimate, non-biological origin. In contrast, organic compounds have an explicit biological origin. However, over the past century, the classification of inorganic vs organic compounds has become less important to scientists,...
with the formula Na
2
PO
3
F. Typical for a salt, MFP is odourless, colourless, and water-soluble. This salt is an ingredient in some toothpastes.
Uses of MFP
MFP is best known as an ingredient in
toothpaste
Toothpaste
Toothpaste is a paste or gel dentifrice used with a toothbrush as an accessory to clean and maintain the aesthetics and health of teeth. Toothpaste is used to promote oral hygiene: it serves as an abrasive that aids in removing the dental plaque and food from the teeth, assists in suppressing...
s. It is claimed to protect tooth enamel from attack by bacteria that cause
dental caries
Dental caries
Dental caries, also known as tooth decay or a cavity, is an irreversible infection usually bacterial in origin that causes demineralization of the hard tissues and destruction of the organic matter of the tooth, usually by production of acid by hydrolysis of the food debris accumulated on the...
(cavities). Though developed by a chemist at Procter and Gamble, its use in toothpaste (Colgate toothpaste) was patented by
Colgate-Palmolive
Colgate-Palmolive
Colgate-Palmolive Company is an American diversified multinational corporation focused on the production, distribution and provision of household, health care and personal products, such as soaps, detergents, and oral hygiene products . Under its "Hill's" brand, it is also a manufacturer of...
, as Procter and Gamble was engaged in the marketing of Crest toothpaste (containing
stannous fluoride
Stannous fluoride
Tin fluoride, known by the common name stannous fluoride, is a chemical compound with the formula SnF2. It is a colorless solid used as an ingredient in toothpastes that are typically more expensive than those that use sodium fluoride...
, marketed as "Fluoristan"). In the early 1980s, Crest was reformulated to use MFP, under the trademark "Fluoristat."
MFP is also used in some medications for the treatment of
osteoporosis
Osteoporosis
Osteoporosis is a disease of bones that leads to an increased risk of fracture. In osteoporosis the bone mineral density is reduced, bone microarchitecture is deteriorating, and the amount and variety of proteins in bone is altered...
.
In 1991, sodium monofluorophosphate was found by
Calgon
Calgon
Calgon is a brand registered trademark of different corporations. The original product consisted of powdered sodium hexametaphosphate , which in water would complex with ambient calcium ion and certain other cations, preventing formation of unwanted salts and interference by those cations with the...
to inhibit the dissolution of
lead
Lead
Lead is a main-group element in the carbon group with the symbol Pb and atomic number 82. Lead is a soft, malleable poor metal. It is also counted as one of the heavy metals. Metallic lead has a bluish-white color after being freshly cut, but it soon tarnishes to a dull grayish color when exposed...
in drinking water when used in concentrations between 0.1 mg/L and 500 mg/L.
Tooth decay
Tooth decay is caused by bacteria naturally present in one's mouth. These bacteria form a sticky, colorless soft film on the teeth called
plaque
Dental plaque
Dental plaque is a biofilm, usually a pale yellow, that develops naturally on the teeth. Like any biofilm, dental plaque is formed by colonizing bacteria trying to attach themselves to a smooth surface...
. When foods containing
carbohydrate
Carbohydrate
A carbohydrate is an organic compound with the empirical formula ; that is, consists only of carbon, hydrogen, and oxygen, with a hydrogen:oxygen atom ratio of 2:1 . However, there are exceptions to this. One common example would be deoxyribose, a component of DNA, which has the empirical...
s (
starch
Starch
Starch or amylum is a carbohydrate consisting of a large number of glucose units joined together by glycosidic bonds. This polysaccharide is produced by all green plants as an energy store...
es and
sugar
Sugar
Sugar is a class of edible crystalline carbohydrates, mainly sucrose, lactose, and fructose, characterized by a sweet flavor.Sucrose in its refined form primarily comes from sugar cane and sugar beet...
s) are eaten, the bacteria that form plaque use the sugar as a form of energy. They also turn it into a glue-like substance that helps them stick to the surface of the tooth. The plaque produces
acid
Acid
An acid is a substance which reacts with a base. Commonly, acids can be identified as tasting sour, reacting with metals such as calcium, and bases like sodium carbonate. Aqueous acids have a pH of less than 7, where an acid of lower pH is typically stronger, and turn blue litmus paper red...
, which attacks the
enamel
Tooth enamel
Tooth enamel, along with dentin, cementum, and dental pulp is one of the four major tissues that make up the tooth in vertebrates. It is the hardest and most highly mineralized substance in the human body. Tooth enamel is also found in the dermal denticles of sharks...
.
Chemistry of decay
Tooth enamel consists mostly of calcium hydroxyphosphate, Ca
5
(PO
4
)
3
OH, also known as the mineral hydroxyapatite. Apatite is a hard, insoluble compound. Acid (H
+
), produced especially after a high-sugar meal, attacks the apatite:
Ca5(PO4)3OH(s) + H+(aq) → Ca5(PO4)3+(aq) + H2O(l)
Chemistry of enamel fluoridation
The degradation of apatite by loss of OH
-
causes the enamel to dissolve. The process is reversible as saliva supplies back OH
-
to reform apatite. If fluoride, F
-
, ions are present in saliva,
fluorapatite
Fluorapatite
Fluorapatite, often with the alternate spelling of fluoroapatite, is a mineral with the formula Ca53F . Fluorapatite is a hard crystalline solid. Although samples can have various color , the pure mineral is colorless as expected for a material lacking transition metals...
, Ca
5
(PO
4
)
3
F, also forms.
Ca5(PO4)3+(aq) + F-(aq) → Ca5(PO4)3F(s)
Fluorapatite resists attacks by acids better than apatite itself, so the tooth enamel resists decay better than enamel containing no fluoride.
Preparation
MFP is prepared by
hydrolysis
Hydrolysis
Hydrolysis is a chemical reaction during which molecules of water are split into hydrogen cations and hydroxide anions in the process of a chemical mechanism. It is the type of reaction that is used to break down certain polymers, especially those made by condensation polymerization...
of difluorophosphate ions with dilute
sodium hydroxide
:
PO2F2- + 2 NaOH → Na2PO3F + H2O + F-
Discovery and development
Sodium monofluorophosphate was first described in 1929 by the German chemist Willy Lange, who was then with the University of Berlin. His fruitless attempts to prepare the free monofluorophosphoric acid led him to check the stability of its esters. Together with Gerda von Krueger, one of his students, Lange thus synthesized diethyl fluorophosphate and some analogs, which proved to be quite toxic, being related to
nerve agent
Nerve agent
Nerve agents are a class of phosphorus-containing organic chemicals that disrupt the mechanism by which nerves transfer messages to organs...
s. In the 1930s,
Gerhard Schrader
Gerhard Schrader
Dr. Gerhard Schrader was a German chemist specializing in the discovery of new insecticides, hoping to make progress in the fight against hunger in the world. However, Dr...
, working for the German company
IG Farben
IG Farben
I.G. Farbenindustrie AG was a German chemical industry conglomerate. Its name is taken from Interessen-Gemeinschaft Farbenindustrie AG . The company was formed in 1925 from a number of major companies that had been working together closely since World War I...
, tried to develop synthetic insecticide. His work focused on esters of phosphoric acid and resulted in an accidental discovery of some other nerve agents such as DFP (= di-isopropyl fluorophosphate),
Tabun
Tabun (nerve agent)
Tabun or GA is an extremely toxic chemical substance. It is a clear, colorless, and tasteless liquid with a faint fruity odor. It is classified as a nerve agent because it fatally interferes with normal functioning of the mammalian nervous system...
, Soman, and Sarin. In the meantime, Lange, who was married to a Jewish woman, emigrated from Germany to the United States and started work for Procter and Gamble Company. In 1947, he and Ralph Livingston of Monsanto Company published the preparation of the free fluorophosphoric acids and mentioned the use of some toxic esters of monofluorophosphoric acid (like DFP) in the treatment of
glaucoma
Glaucoma
Glaucoma is an eye disorder in which the optic nerve suffers damage, permanently damaging vision in the affected eye and progressing to complete blindness if untreated. It is often, but not always, associated with increased pressure of the fluid in the eye...
and
myasthenia gravis
Myasthenia gravis
Myasthenia gravis is an autoimmune neuromuscular disease leading to fluctuating muscle weakness and fatiguability...
. The well known toxicity of these esters led to fears that the simple salts might also be toxic, and such fears precluded any large scale commercial use of the salts. In 1950, under sponsorship of the manufacturer of the compounds, Ozark Chemical Company, the toxicity of sodium monofluorophosphate was studied by
Harold Hodge
Harold Hodge
Harold Carpenter Hodge was a well-known toxicologist who published close to 300 papers and 5 books. He was the first president of the Society of Toxicology in 1960. He received a BS from Illinois Wesleyan University and a PhD in 1930 from the State University of Iowa, publishing his first paper in...
at the
University of Rochester
University of Rochester
The University of Rochester is a private, nonsectarian, research university in Rochester, New York, United States. The university grants undergraduate and graduate degrees, including doctoral and professional degrees. The university has six schools and various interdisciplinary programs.The...
who included anti-cavity testing. In 1967
Colgate-Palmolive
Colgate-Palmolive
Colgate-Palmolive Company is an American diversified multinational corporation focused on the production, distribution and provision of household, health care and personal products, such as soaps, detergents, and oral hygiene products . Under its "Hill's" brand, it is also a manufacturer of...
filed several patents on the use of sodium monofluorophosphate in toothpaste..
Content and toxicity
The usual content of MFP in toothpaste is 0.76%. Currently accepted research indicates that by using such toothpaste, cavities may be reduced 17-38%. According to a 2005 World Health Organization study the rate of dental decay in Fluoridated vs. Non-Fluoridated countries is "comparable."
The compound is not very toxic. The in rats is 0.9 g/kg.
Structure of fluorophosphate
The structure of the fluorophosphate anion consists of
phosphorus
Phosphorus
Phosphorus is the chemical element that has the symbol P and atomic number 15. A multivalent nonmetal of the nitrogen group, phosphorus as a mineral is almost always present in its maximally oxidized state, as inorganic phosphate rocks...
at the center of a tetrahedron defined by three
oxygen
Oxygen
Oxygen is the element with atomic number 8 and represented by the symbol O. Its name derives from the Greek roots ὀξύς and -γενής , because at the time of naming, it was mistakenly thought that all acids required oxygen in their composition...
atoms and one
fluorine
Fluorine
Fluorine is the chemical element with atomic number 9, represented by the symbol F. It is the lightest element of the halogen column of the periodic table and has a single stable isotope, fluorine-19. At standard pressure and temperature, fluorine is a pale yellow gas composed of diatomic...
. Formal representations depict a double bond between one oxygen atom and phosphorus, with single bonds for the other two oxygen atoms and the fluorine. In this very formal depiction, negative charge is localized on the O atoms of the single P-O bonds. MFP is similar to an isoelectronic with Na
2
SO4
Sulfate
In inorganic chemistry, a sulfate is a salt of sulfuric acid.-Chemical properties:...
.