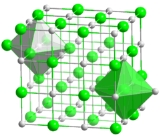 Sodium chloride
Sodium chloride
, also known as
salt
,
common salt
,
table salt
or
halite
Halite
Halite , commonly known as rock salt, is the mineral form of sodium chloride . Halite forms isometric crystals. The mineral is typically colorless or white, but may also be light blue, dark blue, purple, pink, red, orange, yellow or gray depending on the amount and type of impurities...
, is an
inorganic compound
Inorganic compound
Inorganic compounds have traditionally been considered to be of inanimate, non-biological origin. In contrast, organic compounds have an explicit biological origin. However, over the past century, the classification of inorganic vs organic compounds has become less important to scientists,...
with the
formula
Chemical formula
A chemical formula or molecular formula is a way of expressing information about the atoms that constitute a particular chemical compound....
Na
Sodium
Sodium is a chemical element with the symbol Na and atomic number 11. It is a soft, silvery-white, highly reactive metal and is a member of the alkali metals; its only stable isotope is 23Na. It is an abundant element that exists in numerous minerals, most commonly as sodium chloride...
Cl
Chloride
The chloride ion is formed when the element chlorine, a halogen, picks up one electron to form an anion Cl−. The salts of hydrochloric acid HCl contain chloride ions and can also be called chlorides. The chloride ion, and its salts such as sodium chloride, are very soluble in water...
. Sodium chloride is the salt most responsible for the salinity of the
ocean
Ocean
An ocean is a major body of saline water, and a principal component of the hydrosphere. Approximately 71% of the Earth's surface is covered by ocean, a continuous body of water that is customarily divided into several principal oceans and smaller seas.More than half of this area is over 3,000...
and of the
extracellular fluid
Extracellular fluid
Extracellular fluid usually denotes all body fluid outside of cells. The remainder is called intracellular fluid.In some animals, including mammals, the extracellular fluid can be divided into two major subcompartments, interstitial fluid and blood plasma...
of many multicellular
organism
Organism
In biology, an organism is any contiguous living system . In at least some form, all organisms are capable of response to stimuli, reproduction, growth and development, and maintenance of homoeostasis as a stable whole.An organism may either be unicellular or, as in the case of humans, comprise...
s. As the major ingredient in
edible salt
Edible salt
Salt, also known as table salt, or rock salt, is a mineral that is composed primarily of sodium chloride , a chemical compound belonging to the larger class of ionic salts. It is essential for animal life in small quantities, but is harmful to animals and plants in excess...
, it is commonly used as a
condiment
Condiment
A condiment is an edible substance, such as sauce or seasoning, added to food to impart a particular flavor, enhance its flavor, or in some cultures, to complement the dish. Many condiments are available packaged in single-serving sachets , like mustard or ketchup, particularly when supplied with...
and food
preservative
Preservative
A preservative is a naturally occurring or synthetically produced substance that is added to products such as foods, pharmaceuticals, paints, biological samples, wood, etc. to prevent decomposition by microbial growth or by undesirable chemical changes....
.
In solid sodium chloride, each ion is surrounded by six ions of the opposite charge as expected on electrostatic grounds.