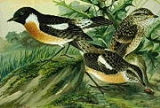 Saxicola
The genus
Saxicola
the
stonechats
or
chats
, is a
genus
Genus
In biology, a genus is a low-level taxonomic rank used in the biological classification of living and fossil organisms, which is an example of definition by genus and differentia...
of 15
species
Species
In biology, a species is one of the basic units of biological classification and a taxonomic rank. A species is often defined as a group of organisms capable of interbreeding and producing fertile offspring. While in many cases this definition is adequate, more precise or differing measures are...
of small
passerine
Passerine
A passerine is a bird of the order Passeriformes, which includes more than half of all bird species. Sometimes known as perching birds or, less accurately, as songbirds, the passerines form one of the most diverse terrestrial vertebrate orders: with over 5,000 identified species, it has roughly...
bird
Bird
Birds are feathered, winged, bipedal, endothermic , egg-laying, vertebrate animals. Around 10,000 living species and 188 families makes them the most speciose class of tetrapod vertebrates. They inhabit ecosystems across the globe, from the Arctic to the Antarctic. Extant birds range in size from...
s restricted to the
Old World
Old World
The Old World consists of those parts of the world known to classical antiquity and the European Middle Ages. It is used in the context of, and contrast with, the "New World" ....
. They are
insectivore
Insectivore
An insectivore is a type of carnivore with a diet that consists chiefly of insects and similar small creatures. An alternate term is entomophage, which also refers to the human practice of eating insects....
s occurring in open scrubland and grassland with scattered small
shrub
Shrub
A shrub or bush is distinguished from a tree by its multiple stems and shorter height, usually under 5–6 m tall. A large number of plants may become either shrubs or trees, depending on the growing conditions they experience...
s.
Species
The following species are currently accepted in
Saxicola
:
Species status possible, but not yet verified:
Ethiopian Stonechat Saxicola (torquatus) albofasciatus
Formerly included in
Saxicola
, but now treated in a separate genus:
Buff-streaked Chat

Buff-streaked Chat

The Buff-streaked Chat is a species of bird in the Muscicapidae family.It is found in Lesotho, South Africa, and Swaziland.Its natural habitat is subtropical or tropical dry lowland grassland.-References:...


Campicoloides bifasciatus (syn. Oenanthe bifasciata, Saxicola bifasciatus)
Taxonomy
The genus was formerly included in the thrush family Turdidae, but as with several other related genera, has now been shown to be correctly classified in the Old World flycatcher family Muscicapidae, in which it is most closely related to the genera
Oenanthe
Wheatear
The wheatears are passerine birds of the genus Oenanthe. They were formerly considered to be members of the thrush family Turdidae, but are now more commonly placed in the flycatcher family Muscicapidae...
(wheatears) and
Campicoloides
Buff-streaked Chat
The Buff-streaked Chat is a species of bird in the Muscicapidae family.It is found in Lesotho, South Africa, and Swaziland.Its natural habitat is subtropical or tropical dry lowland grassland.-References:...
.
Genetic and behavioural evidence has also resulted in several new species being accepted in the genus in recent years, most notably the splitting of the former broad "species"
Common Stonechat
Common Stonechat
Common Stonechat is the name used for the Saxicola species Saxicola torquatus when this is treated in its broad sense.It is however now more widely considered to be a superspecies consisting of several related but distinct species, which are outwardly fairly similar but genetically distinct and...
Saxicola torquatus
into five species, a change now widely though not yet universally accepted. With addition of mtDNA
cytochrome b
Cytochrome b
Cytochrome b/b6 is the main subunit of transmembrane cytochrome bc1 and b6f complexes. In addition, it commonly refers to a region of mtDNA used for population genetics and phylogenetics.- Function :...
sequence
DNA sequence
The sequence or primary structure of a nucleic acid is the composition of atoms that make up the nucleic acid and the chemical bonds that bond those atoms. Because nucleic acids, such as DNA and RNA, are unbranched polymers, this specification is equivalent to specifying the sequence of...
and nDNA fingerprinting data, it was confirmed that not only the
Fuerteventura
Fuerteventura Chat
The Canary Islands Stonechat , also known as the Fuerteventura Stonechat or Fuerteventura Chat, and formerly known as the Canary Islands Chat due to its once widespread distribution on the Canary Islands...
and
Réunion Stonechat
Reunion Stonechat
The Reunion Stonechat is a species of stonechat, endemic to the island of Réunion. This small passerine bird is common in clearings and open mountain bushlands there. Overall, the male is black above and white below, but also with a white supercilium , half-collar, and greater covert patch, and a...
s are distinct species, but that in addition, the
African
African Stonechat
The African Stonechat is a species of the Old World flycatcher family , inhabiting sub-Saharan Africa and adjacent regions. Like the other chats, it was long assigned to the thrush family , to which the chats are convergent...
,
Madagascar
Madagascar Stonechat
The Madagascar Stonechat Saxicola sibilla is a species of stonechat, endemic to Madagascar. It is a small bird, closely similar to the African Stonechat in both plumage and behaviour, but distinguished from it by the more extensive black on the throat and minimal orange-red on the upper breast of...
,
European
European Stonechat
The European Stonechat is a small passerine bird that was formerly classed as a subspecies of the Common Stonechat. Long considered a member of the thrush family Turdidae, genetic evidence has placed it and its relatives in the Old World flycatcher family Muscicapidae.It is 11.5–13 cm long and...
,
Siberian
Siberian Stonechat
The Siberian Stonechat or Asian Stonechat is a recently-validated species of the Old World flycatcher family . Like the other thrush-like flycatchers, it was often placed in the Turdidae in the past...
and
Stejneger's Stonechat
Stejneger's Stonechat
Stejneger's Stonechat Saxicola stejnegeri is a species of stonechat native to eastern Asia. It breeds in central and eastern Siberia, Japan, Korea, northeastern China, and eastern Mongolia, and migrates south to southern China and Indochina in winter....
s are also all separate species. Due to confusion of
subspecies
Subspecies
Subspecies in biological classification, is either a taxonomic rank subordinate to species, ora taxonomic unit in that rank . A subspecies cannot be recognized in isolation: a species will either be recognized as having no subspecies at all or two or more, never just one...
allocation, the name
S. torquatus
was briefly used for the European species, with the African Stonechat being incorrectly listed as
S. axillaris
.
Owing to misunderstandings of Latin grammar, several species have in the past been widely but incorrectly cited with feminine name endings ("
S. torquata, S. maura, S. leucura, S. ferrea
", etc.).