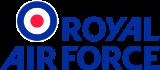 Royal Air Force
The
Royal Air Force
is the
aerial warfare
Aerial warfare
Aerial warfare is the use of military aircraft and other flying machines in warfare, including military airlift of cargo to further the national interests as was demonstrated in the Berlin Airlift...
service branch of the
British Armed Forces
British Armed Forces
The British Armed Forces are the armed forces of the United Kingdom of Great Britain and Northern Ireland.Also known as Her Majesty's Armed Forces and sometimes legally the Armed Forces of the Crown, the British Armed Forces encompasses three professional uniformed services, the Royal Navy, the...
. Formed on 1 April 1918, it is the oldest independent air force in the world. The RAF has taken a significant role in
British military history
Military history of the United Kingdom
The military history of the United Kingdom covers the period from the creation of the united Kingdom of Great Britain in 1707, with the political union of England and Scotland, to the present day....
, playing a large part in the Second World War and in more recent conflicts.
The RAF is one of the most capable and technologically sophisticated air forces in the world, and as of mid 2011, operates around
998 aircraft
, making it the largest air force in Europe and the second largest in
NATO
(after the USAF).
1912 The Royal Flying Corps (now the Royal Air Force) is established in the United Kingdom.
1918 The Royal Air Force is created by the merger of the Royal Flying Corps and the Royal Naval Air Service.
1925 Pink's War: The first Royal Air Force operation conducted independently of the British Army or Royal Navy begins.
1940 World War II: The climax of the Battle of Britain, when the Royal Air Force shoots down large numbers of Luftwaffe aircraft.
1940 World War II: In response to Germany's leveling of Coventry, England two days before, the Royal Air Force bombs Hamburg.
1943 World War II: in the Second firestorm raid on Germany, the Royal Air Force conducts an air raid on the town of Kassel, killing 10,000 and rendering 150,000 homeless.
1943 World War II: Battle of Berlin: 440 Royal Air Force planes bomb Berlin causing only light damage and killing 131. The RAF loses nine aircraft and 53 air crew.
1944 World War II: The Royal Air Force launches 29 Avro Lancaster bombers in one of the most successful precision bombing attacks of war and sinks the German battleship ''Tirpitz'', with 12,000 lb Tallboy bombs off Tromsø, Norway.
1944 World War II: An explosion at a Royal Air Force ammunition dump at Fauld, Staffordshire kills seventy people.
1945 World War II: Royal Air Force bombers are dispatched to Dresden, Germany to attack the city with a massive aerial bombardment.