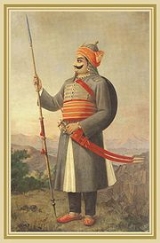 Rajasthan
Rājasthān
the land of
Rajasthanis
Rajasthani people
Rajasthani people are the native inhabitants of Rajasthan region of India. They form an ethnic group which is a result of assimilation of Scytho-Dravidian, Aryo-Dravidian, Indo-Aryan, Indo-Scythian, Indo-Greeks, Indo-Iranians and Austro-Asiatic ancestries...
, ("
the land of kings
" or "
the land of colours
"), is the largest
state
States and territories of India
India is a federal union of states comprising twenty-eight states and seven union territories. The states and territories are further subdivided into districts and so on.-List of states and territories:...
of the Republic of India by area. It is located in the northwest of India. It encompasses most of the area of the large, inhospitable Great Indian Desert (
Thar Desert
Thar Desert
The Thar Desert |Punjab]] province. The Cholistan Desert adjoins the Thar desert spreading into Pakistani Punjab province.-Location and description:...
), which has an edge paralleling the
Sutlej
Sutlej
The Sutlej River is the longest of the five rivers that flow through the historic crossroad region of Punjab in northern India and Pakistan. It is located north of the Vindhya Range, south of the Hindu Kush segment of the Himalayas, and east of the Central Sulaiman Range in Pakistan.The Sutlej...
-Indus river valley along its border with
Pakistan
Pakistan
Pakistan , officially the Islamic Republic of Pakistan is a sovereign state in South Asia. It has a coastline along the Arabian Sea and the Gulf of Oman in the south and is bordered by Afghanistan and Iran in the west, India in the east and China in the far northeast. In the north, Tajikistan...
. The state is bordered by Pakistan to the west,
Gujarat
to the southwest,
Madhya Pradesh
Madhya Pradesh
Madhya Pradesh , often called the Heart of India, is a state in central India. Its capital is Bhopal and Indore is the largest city....
to the southeast,
Uttar Pradesh
Uttar Pradesh
Uttar Pradesh abbreviation U.P. , is a state located in the northern part of India. With a population of over 200 million people, it is India's most populous state, as well as the world's most populous sub-national entity...
and
Haryana
Haryana
Haryana is a state in India. Historically, it has been a part of the Kuru region in North India. The name Haryana is found mentioned in the 12th century AD by the apabhramsha writer Vibudh Shridhar . It is bordered by Punjab and Himachal Pradesh to the north, and by Rajasthan to the west and south...
to the northeast and Punjab to the north.