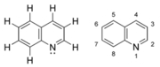 Quinoline
Quinoline
is a heterocyclic aromatic
organic compound
Organic compound
An organic compound is any member of a large class of gaseous, liquid, or solid chemical compounds whose molecules contain carbon. For historical reasons discussed below, a few types of carbon-containing compounds such as carbides, carbonates, simple oxides of carbon, and cyanides, as well as the...
. It has the formula C
9
H
7
N and is a colourless hygroscopic liquid with a strong odour. Aged samples, if exposed to light, become yellow and later brown. Quinoline is only slightly soluble in cold water but dissolves readily in hot water and most organic solvents.
Quinoline is mainly used as a building block to other specialty chemicals.