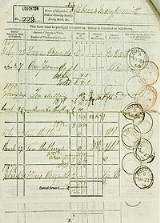 Postal savings system
Many nations'
post office
Post office
A post office is a facility forming part of a postal system for the posting, receipt, sorting, handling, transmission or delivery of mail.Post offices offer mail-related services such as post office boxes, postage and packaging supplies...
s operated or continue to operate
postal savings systems
to provide depositors who do not have access to banks a safe, convenient method to save money and to promote saving among the poor.
Great Britain
The first nation to offer such an arrangement was
Great Britain
United Kingdom
The United Kingdom of Great Britain and Northern IrelandIn the United Kingdom and Dependencies, other languages have been officially recognised as legitimate autochthonous languages under the European Charter for Regional or Minority Languages...
in 1861. It was vigorously supported by
Sir Rowland Hill
Rowland Hill (postal reformer)
Sir Rowland Hill KCB, FRS was an English teacher, inventor and social reformer. He campaigned for a comprehensive reform of the postal system, based on the concept of penny postage and his solution of prepayment, facilitating the safe, speedy and cheap transfer of letters...
, who successfully advocated the
penny post
Penny Post
The Penny Post is any one of several postal systems in which normal letters could be sent for one penny.-London Penny Post:In England, the Post Office had a monopoly on the collection and carriage of letters between post towns but there was no delivery system until the London Penny Post was...
, and
William Ewart Gladstone
William Ewart Gladstone
William Ewart Gladstone FRS FSS was a British Liberal statesman. In a career lasting over sixty years, he served as Prime Minister four separate times , more than any other person. Gladstone was also Britain's oldest Prime Minister, 84 years old when he resigned for the last time...
, then
Chancellor of the Exchequer
Chancellor of the Exchequer
The Chancellor of the Exchequer is the title held by the British Cabinet minister who is responsible for all economic and financial matters. Often simply called the Chancellor, the office-holder controls HM Treasury and plays a role akin to the posts of Minister of Finance or Secretary of the...
, who saw it as a cheap way to finance the public debt. At the time, banks were mainly in the cities and largely catered to wealthy customers. Rural citizens and the poor had no choice but to keep their funds at home or on their persons.
The original Post Office Savings Bank was limited to deposits of £30 a year with a maximum balance of £150. Interest was paid at the rate of two and one-half percent per year on whole pounds in the account. Later the limits were raised to a maximum of £500 a year in deposits and no limit on the total. Within five years of the establishment of the system there were over 600,000 accounts and £8.2 million on deposit. By 1927, there were twelve million accounts—one in four Britons—with £283 million on deposit.
The British system first offered only
savings account
Savings account
Savings accounts are accounts maintained by retail financial institutions that pay interest but cannot be used directly as money . These accounts let customers set aside a portion of their liquid assets while earning a monetary return...
s.
In 1880, it also became a retail outlet for
government bond
Government bond
A government bond is a bond issued by a national government denominated in the country's own currency. Bonds are debt investments whereby an investor loans a certain amount of money, for a certain amount of time, with a certain interest rate, to a company or country...
s, and in 1916 introduced
war savings certificates
War bond
War bonds are debt securities issued by a government for the purpose of financing military operations during times of war. War bonds generate capital for the government and make civilians feel involved in their national militaries...
, renamed National Savings Certificates in 1920.
In 1956, it launched a lottery bond, the
Premium Bond
Premium Bond
A Premium Bond is a lottery bond issued by the United Kingdom government's National Savings and Investments scheme. The government promises to buy back the bond, on request, for its original price. They were introduced by Harold Macmillan in his 1956 budget....
, which became its most popular savings certificate.
Post Office Savings Bank became National Savings Bank in 1969, later renamed
National Savings and Investments
National Savings and Investments
National Savings and Investments , formerly called the Post Office Savings Bank and National Savings, is a state-owned savings bank in the United Kingdom. It is an executive agency of the Chancellor of the Exchequer...
(NS&I), an agency of HM Treasury.
While continuing to offer National Savings services, the (then)
General Post Office
General Post Office
General Post Office is the name of the British postal system from 1660 until 1969.General Post Office may also refer to:* General Post Office, Perth* General Post Office, Sydney* General Post Office, Melbourne* General Post Office, Brisbane...
, created the National Giro in 1968 (privatised as Girobank and acquired by
Alliance & Leicester
Alliance & Leicester
Alliance & Leicester was a former UK-based bank and PLC, which in later years operated as a trading name of Santander UK before being rebranded as Santander. Alliance & Leicester was legally acquired in May 2010 by Santander UK, and was fully incorporated by 2011...
in 1989) and more recently, Post Office Ltd. offers savings accounts based on its brand, operated by the
Bank of Ireland
Bank of Ireland
The Bank of Ireland is a commercial bank operation in Ireland, which is one of the 'Big Four' in both parts of the island.Historically the premier banking organisation in Ireland, the Bank occupies a unique position in Irish banking history...
, a commercial bank and Family Investments, a
friendly society
Friendly society
A friendly society is a mutual association for insurance, pensions or savings and loan-like purposes, or cooperative banking. It is a mutual organization or benefit society composed of a body of people who join together for a common financial or social purpose...
.
The Post Office branded services are similar to some of NS&I's services, and include instant savings,
Individual Savings Account
Individual Savings Account
An Individual Savings Account is a financial product available to residents in the United Kingdom. It is designed for the purpose of investment and savings with a favourable tax status. Money is contributed from after tax income and not subjected to income tax or capital gains tax within a holding...
s, seasonal savings and savings bonds.
Post Office Ltd also provides a
Post Office card account
that accepts only direct deposits of certain state pension and welfare payments, permitting cash withdrawals over the counter. This last account is offered in partnership with the
Department for Work and Pensions
Department for Work and Pensions
The Department for Work and Pensions is the largest government department in the United Kingdom, created on June 8, 2001 from the merger of the employment part of the Department for Education and Employment and the Department of Social Security and headed by the Secretary of State for Work and...
, until 2010 through investment banking and asset management company JP Morgan. (This contract has recently been awarded to JP Morgan to run till 2015)
Other countries
Many other countries adopted such systems. Many were later abolished or
privatized
Privatization
Privatization is the incidence or process of transferring ownership of a business, enterprise, agency or public service from the public sector to the private sector or to private non-profit organizations...
, though some countries offer postal savings and banking through partnerships with commercial banks.
Currently operational systems (including privatized systems)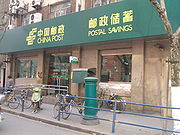 Japan Post Bank

Japan Post Bank

Japan Post Bank Company Limited , is a Japanese bank headquartered in Tokyo which is part of the Japan Post Holdings postal and financial services group.As of November 2008 it was reported as being the world's biggest deposit holder.-History:It was established on 1...


: In Japan

Japan

Japan is an island nation in East Asia. Located in the Pacific Ocean, it lies to the east of the Sea of Japan, China, North Korea, South Korea and Russia, stretching from the Sea of Okhotsk in the north to the East China Sea and Taiwan in the south...


, the post office was the world's largest savings bank with 198 trillion yen (US$1.7 trillion) of deposits as of 2006, much from conservative, risk-averse citizens. The government was criticized for using these funds to engage in uneconomical infrastructure projects—what in America would be called pork barrel

Pork barrel

Pork barrel is a derogatory term referring to appropriation of government spending for localized projects secured solely or primarily to bring money to a representative's district...


spending. The state-owned Japan Post Bank

Japan Post Bank

Japan Post Bank Company Limited , is a Japanese bank headquartered in Tokyo which is part of the Japan Post Holdings postal and financial services group.As of November 2008 it was reported as being the world's biggest deposit holder.-History:It was established on 1...


business unit of Japan Post

Japan Post

was a government-owned corporation in Japan, that existed from 2003–2007, offering postal and package delivery services, banking services, and life insurance. It had over 400,000 employees and ran 24,700 post offices throughout Japan and was the nation's largest employer. One third of all Japanese...


was formed in 2007, as part of a ten year privatization programme, intended to achieve fully private ownership of the postal system by 2017.
Deutsche Postbank

Deutsche Postbank

Deutsche Postbank AG is a German retail bank with headquarters in Bonn. Postbank was formed from the demerger of the postal savings division of Deutsche Bundespost in 1990. It became a wholly owned subsidiary of Deutsche Post in 1999, and was partially spun out on the Frankfurt Stock Exchange in 2004...


: Germany

Germany

Germany , officially the Federal Republic of Germany , is a federal parliamentary republic in Europe. The country consists of 16 states while the capital and largest city is Berlin. Germany covers an area of 357,021 km2 and has a largely temperate seasonal climate...


has, like Japan, a postal banking system: Deutsche Postbank was a subsidiary of Deutsche Post

Deutsche Post

Deutsche Post AG, operating under the trade name Deutsche Post DHL, is the world's largest logistics group. With its headquarters in Bonn, the corporation has 467,088 employees in more than 220 countries and territories worldwide and generated revenue of € 51.48 billion in 2010...


until 2008, when 30% of Deutsche Post's shares were sold to Deutsche Bank

Deutsche Bank

Deutsche Bank AG is a global financial service company with its headquarters in Frankfurt, Germany. It employs more than 100,000 people in over 70 countries, and has a large presence in Europe, the Americas, Asia Pacific and the emerging markets...


. Postal banking services are still available at all branches of Deutsche Post and Deutsche Postbank.
In the People's Republic of China

People's Republic of China

China , officially the People's Republic of China , is the most populous country in the world, with over 1.3 billion citizens. Located in East Asia, the country covers approximately 9.6 million square kilometres...


, the Postal Savings Bank of China

Postal Savings Bank of China

Postal Savings Bank of China is a commercial retail bank, which provides basic financial services, especially to SMEs, rural and low income customers. PSBC has 40,000 branches covering all regions of China....


(:zh:中国邮政储蓄银行) was split from China Post

China Post

China Post , which is the name used by the State Post Bureau of PRC in business, is the official postal service of the People's Republic of China. China Post is operated by the State Post Bureau of the People's Republic of China. The State Post Bureau, commonly referred to as China Post, is both a...


in 2007 and established as a state-owned limited company. It continues to provide banking services at post offices.
Brazil

Brazil

Brazil , officially the Federative Republic of Brazil , is the largest country in South America. It is the world's fifth largest country, both by geographical area and by population with over 192 million people...


instituted a postal banking system in 2002, where the national postal service (ECT

Correios

Empresa Brasileira de Correios e Telégrafos , also known as Correios, is one of the largest state-owned companies in latin america and is responsible for the national postal service of Brazil, with a high level of reliability in Brazil...


) formed a partnership with the largest private bank in the country (Bradesco

Banco Bradesco

Bradesco is one of the Big Four banks in Brazil, the others being Banco do Brasil, Itaú Unibanco and CEF. Bradesco was the largest private bank in Brazil until Banco Itaú and Unibanco merged in 2009. Bradesco is headquartered in Osasco, has 3,945 branches and 38,772 Automatic Teller Machines...


) to provide financial services at post offices.
Israel

Israel

The State of Israel is a parliamentary republic located in the Middle East, along the eastern shore of the Mediterranean Sea...


's postal service offers utility payment, savings and checking accounts, as well as foreign currency exchange services from all post offices.
France

France

The French Republic , The French Republic , The French Republic , (commonly known as France , is a unitary semi-presidential republic in Western Europe with several overseas territories and islands located on other continents and in the Indian, Pacific, and Atlantic oceans. Metropolitan France...


's La Poste

La Poste (France)

La Poste is the mail service of France, which also operates postal services in the French Overseas Departments of Réunion, Guadeloupe, Martinique and French Guiana, and the territorial collectivities of Saint Pierre and Miquelon and Mayotte...


, similar to the UK's Post Office, does not offer deposit services, but does offer some fee-free financial services in direct competition with privately owned banks, such as monetary withdrawals from private bank accounts and money changing.
Korea Post

Korea Post

Korea Post is the national postage service of South Korea, and a direct subauthority of Ministry of Knowledge and Economy. Korea Post is in charge of postal service, postal banking & insurance service...


, operated by South Korean government, has its postal banking and postal insurance business. Korea Post also handles deposit and withdrawal to/from Citibank Korea

Citibank

Citibank, a major international bank, is the consumer banking arm of financial services giant Citigroup. Citibank was founded in 1812 as the City Bank of New York, later First National City Bank of New York...


, IBK and KEB

Korea Exchange Bank

Korea Exchange Bank is a specialized foreign exchange bank in South Korea. It is headquartered in Seoul, and was established in 1967.Korea Exchange Bank is the fifth largest bank in South Korea measured in assets and the largest foreign exchange bank in South Korea, providing the largest range of...


account. Postal banking and insurance counter is available in all post offices, excluding postal agency and mail delivery centers.
India post, operated by Government of India, under Indian Postal services providing small savings banking and financial services.
South African Postbank, operated by the South African Post Office (SAPO). Offers transactional, savings, investments, insurance & pension banking services.
Kenya Post Office Savings Bank (KPOSB/Postbank)
Defunct systems

See also
Postbank – Ireland
Deutsche Postbank

Deutsche Postbank

Deutsche Postbank AG is a German retail bank with headquarters in Bonn. Postbank was formed from the demerger of the postal savings division of Deutsche Bundespost in 1990. It became a wholly owned subsidiary of Deutsche Post in 1999, and was partially spun out on the Frankfurt Stock Exchange in 2004...


AG - Germany
Greek Postal Savings Bank

Greek Postal Savings Bank

TT Hellenic Postbank is a commercial bank based in Athens, in Greece. Floated on the Athens Stock Exchange, its largest single shareholder is the Hellenic Republic....


(Taxydromiko Tamieutirio)
Postal Savings Bank notes (1919) – Hungary
Postbank N.V.

Postbank N.V.

The Postbank was a large Dutch bank, part of the ING Group. It had 7.5 million private account holders and was one of the largest providers of financial services in the country. It provided current and savings accounts, loans, mortgages, insurance, investments and pensions...


– Netherlands
Philippine Postal Savings Bank

Philippine Postal Savings Bank

The Philippine Postal Savings Bank , also known as PostalBank, is the state-owned postal savings system in the Philippines. It is the smallest of the Philippines' three state-owned banks, ranking 16th among thrift banks in terms of assets...



PostBank

PostBank

PostBank was the trading name of the Post Office Bank Limited, a bank owned by the New Zealand Government. PostBank was formed when the New Zealand Post Office was split up by the Postal Services Act 1987 into Post Office Bank Ltd , New Zealand Post Ltd and Telecom Corporation of New Zealand...


– New Zealand

Post Office Squirrel savings account

Post Office Squirrel savings account

The Post Office Squirrel savings account was a New Zealand savings programme set up through the New Zealand Post Office to encourage younger citizens to save money. It is no longer active....




Postbanken

Postbanken

Postbanken is a Norwegian bank that is part of the DnB NOR Group. The bank offers its services through the Norwegian post offices.-History:...


– Norway
POSBank

POSBank

POSBank is a brand of consumer banking services offered by DBS Bank in Singapore, after it was acquired by the latter in November 1998. Prior to this, it was a major public bank which began life as the Post Office Savings Bank, offering low-cost banking services to Singaporeans...


– Singapore
United States Postal Savings System

United States Postal Savings System

The United States Postal Savings System was a postal savings system operated by the United States Postal Service from January 1, 1911 until July 1, 1967. The system paid depositors 2 percent annual interest. Depositors in the system were initially limited to hold a balance of $500, but this was...


- United States