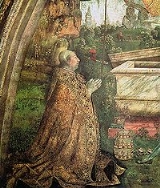 Pope Alexander VI
Pope Alexander VI
born
Roderic Llançol i Borja
was
Pope
Pope
The Pope is the Bishop of Rome, a position that makes him the leader of the worldwide Catholic Church . In the Catholic Church, the Pope is regarded as the successor of Saint Peter, the Apostle...
from 1492 until his death on 18 August 1503. He is one of the most controversial of the
Renaissance
Renaissance
The Renaissance was a cultural movement that spanned roughly the 14th to the 17th century, beginning in Italy in the Late Middle Ages and later spreading to the rest of Europe. The term is also used more loosely to refer to the historical era, but since the changes of the Renaissance were not...
popes, and his
Italianized
Italianization
Italianization or Italianisation is a term used to describe a process of cultural assimilation in which ethnically non or partially Italian people or territory become Italian. The process can be voluntary or forced...
surname—
Borgia
Borgia
The Borgias, also known as the Borjas, Borjia, were a European Papal family of Italian and Spanish origin with the name stemming from the familial fief seat of Borja belonging to their Aragonese Lords; they became prominent during the Renaissance. The Borgias were patrons of the arts, and their...
—became a byword for the debased standards of the Papacy of that era, most notoriously the
Banquet of Chestnuts
Banquet of Chestnuts
The Banquet of Chestnuts, known more properly as the Ballet of Chestnuts, refers to a fête in Rome, and particularly to a supper held in the Papal Palace by Don Cesare Borgia, son of Pope Alexander VI on October 30, 1501...
in 1501.
Rodrigo Llançol was born on 1 January 1431 in the town of
Xàtiva
Xàtiva
Xàtiva is a town in eastern Spain, in the province of Valencia, on the right bank of the river Albaida and at the junction of the Valencia–Murcia and Valencia Albacete railways....
in the
Kingdom of Valencia
Kingdom of Valencia
The Kingdom of Valencia , located in the eastern shore of the Iberian Peninsula, was one of the component realms of the Crown of Aragon. When the Crown of Aragon merged by dynastic union with the Crown of Castile to form the Kingdom of Spain, the Kingdom of Valencia became a component realm of the...
—one of the component realms of the
Crown of Aragon
Crown of Aragon
The Crown of Aragon Corona d'Aragón Corona d'Aragó Corona Aragonum controlling a large portion of the present-day eastern Spain and southeastern France, as well as some of the major islands and mainland possessions stretching across the Mediterranean as far as Greece...
—in present day
Spain
Spain
Spain , officially the Kingdom of Spain languages]] under the European Charter for Regional or Minority Languages. In each of these, Spain's official name is as follows:;;;;;;), is a country and member state of the European Union located in southwestern Europe on the Iberian Peninsula...
.